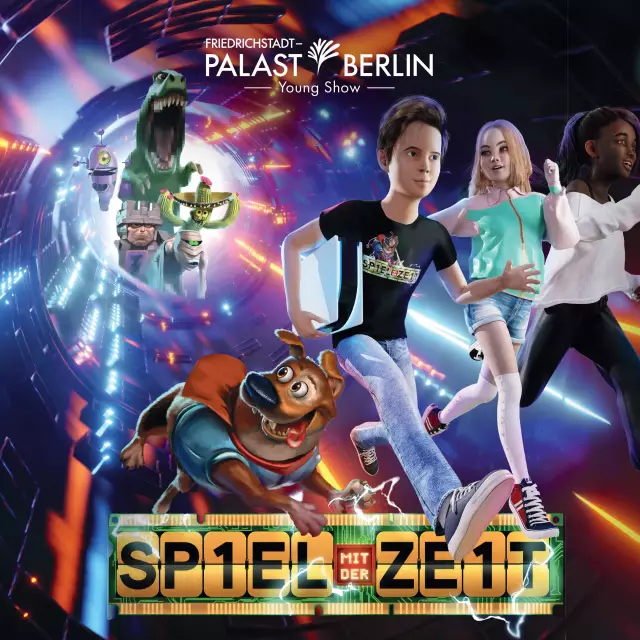 Spiel mit der Zeit
With "Spiel mit der Zeit" one of the biggest audience favorites returns to the stage at Friedrichstadt-Palast. Ben, Lea, Jule and the Superdog are back!

The three Berlin kids involuntarily go time traveling because of a game console with a loose contact. Accompanied by Superdog, they end up in different eras and even in the future. In the process, they discover that they can master any adventure if they stay cool and stick together.

The Young Show "Spiel mit der Zeit" celebrated its acclaimed world premiere in 2017 and is one of the most successful children's productions at Friedrichstadt-Palast. It was artistically and technically revised with great effort for the revival in November.

The Young Show is one of the most elaborate shows in Europe. Over 100 young people between the ages of 7 and 17 perform in each performance. The Young Ensemble is the largest children's and youth ensemble in Europe with 280 kids and teens from over 20 nations.

The recommended minimum age is five. No admission for children under three. 'Playing with Time' lasts approximately 90 minutes (no intermission) and runs from November 23, 2023 to January 31, 2024.

Kalender
23

Nov

16:00 o'clock

24

Nov

11:30 o'clock

28

Nov

16:00 o'clock

29

Nov

16:00 o'clock

30

Nov

16:00 o'clock

01

Dec

16:00 o'clock

02

Dec

11:30 o'clock

03

Dec

11:30 o'clock

05

Dec

16:00 o'clock

06

Dec

16:00 o'clock

07

Dec

16:00 o'clock

08

Dec

16:00 o'clock

09

Dec

11:30 o'clock

10

Dec

11:30 o'clock

12

Dec

16:00 o'clock

13

Dec

16:00 o'clock

14

Dec

16:00 o'clock

15

Dec

16:00 o'clock

17

Dec

11:30 o'clock

19

Dec

16:00 o'clock

21

Dec

16:00 o'clock

22

Dec

16:00 o'clock

14

Jan

11:30 o'clock

16

Jan

16:00 o'clock

17

Jan

16:00 o'clock

18

Jan

16:00 o'clock

19

Jan

16:00 o'clock

20

Jan

11:30 o'clock

21

Jan

11:30 o'clock

23

Jan

16:00 o'clock

24

Jan

16:00 o'clock

25

Jan

16:00 o'clock

26

Jan

16:00 o'clock

28

Jan

11:30 o'clock

30

Jan

16:00 o'clock

31

Jan

16:00 o'clock