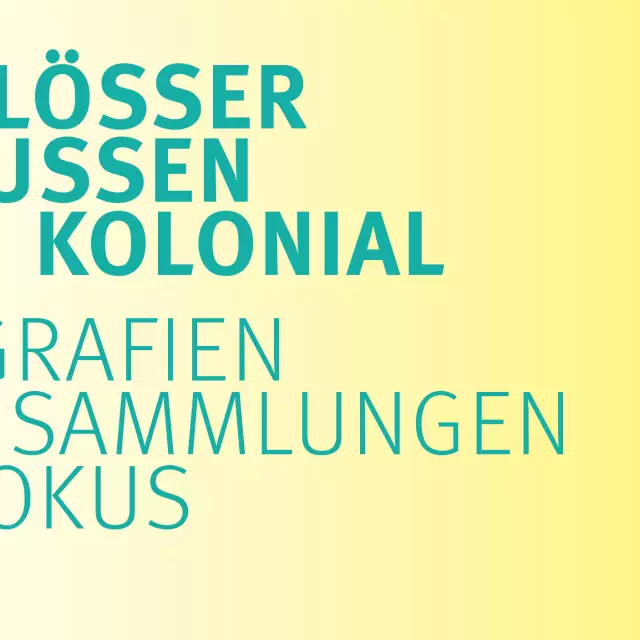 SCHLÖSSER. PREUSSEN. KOLONIAL
The special exhibition "Castles. Prussia. Colonial. Biographies and Collections in Focus" at Charlottenburg Palace examines the colonial past of the collection holdings of the Prussian Palaces and Gardens Foundation Berlin-Brandenburg (SPSG).

Biographies and objects show and arrange traces of colonial continuities that reach from the 17th century to the present.

The focus is on the strategies and practices of the court and the monarchy, which reveal the hitherto little-noticed complexity of the colonial history of Brandenburg and Prussia.
As a counterpoint to the historical objects, interventions by contemporary artists are shown.

The artist Nando Nkrumah, with Ghanaian-German roots, is showing the installation "This is not only hi(s) story. This is OUR STORY".

Nando Nkrumah's work was selected by a jury in an open art competition.

Colonial Continuities

With a new methodical approach, the colonial history in the Prussian palaces and gardens is to be researched and communicated. This also includes dealing with terms such as "colonial continuities", which are conveyed to the visitors.

With a small library, historical objects and a media collage of text, images and film excerpts, the special exhibition presents basic concepts:

• What is colonialism?

• What does decolonization or postcolonial mean?

• What does exoticism mean?

exchange of views

The objects and people depicted in Prussian palaces and gardens have so far mostly been presented and viewed independently of German colonial history. The colonial history of Brandenburg and Prussia goes back to the 17th century. The Brandenburg African Compagnie (BAC) was actively involved in the transatlantic slave trade. Until the 19th century, enslaved people were brought to the Prussian court, where they e.g. had to work as servants, painters and musicians.

Based on the little information that is still available, the curators recall the biographies of these people from Africa, who tried to find a way between forced assimilation and their own resistance.

The collections of the Brandenburg-Prussian court included works of art and everyday objects from Asia, Africa and South America, which found their way into the Kunstkammer via colonial connections and represented the world view of the respective monarch.

The conceptual design of the exhibition is based on an exchange between the curators and external initiatives and project groups from civil society. The specific themes of the exhibition were jointly developed and discussed in a series of workshops. The concrete design of the exhibition rooms and the selection of the exhibits can also be traced back to this exchange. The participants supported and accompanied the creation process of the exhibition as experts or curatorial advisors. The exhibition concept is based on a broad and therefore sustainable foundation that allows for numerous perspectives.

A diverse supporting program complements the project. Guided tours, workshops and lectures make it possible to delve deeper into the themes of the exhibition.

The exhibition is shown as part of the SPSG theme year "Elector - Emperor - Colonies".

Kalender
05

Jul

10:00 o'clock

08

Jul

10:00 o'clock

09

Jul

10:00 o'clock

11

Jul

10:00 o'clock

12

Jul

10:00 o'clock

15

Jul

10:00 o'clock

20

Jul

10:00 o'clock

21

Jul

10:00 o'clock

22

Jul

10:00 o'clock

30

Jul

10:00 o'clock

01

Aug

10:00 o'clock

02

Aug

10:00 o'clock

03

Aug

10:00 o'clock

04

Aug

10:00 o'clock

06

Aug

10:00 o'clock

10

Aug

10:00 o'clock

12

Aug

10:00 o'clock

15

Aug

10:00 o'clock

16

Aug

10:00 o'clock

17

Aug

10:00 o'clock

18

Aug

10:00 o'clock

20

Aug

10:00 o'clock

23

Aug

10:00 o'clock

27

Aug

10:00 o'clock

30

Aug

10:00 o'clock

01

Sep

10:00 o'clock

02

Sep

10:00 o'clock

03

Sep

10:00 o'clock

05

Sep

10:00 o'clock

06

Sep

10:00 o'clock

07

Sep

10:00 o'clock

09

Sep

10:00 o'clock

12

Sep

10:00 o'clock

15

Sep

10:00 o'clock

16

Sep

10:00 o'clock

17

Sep

10:00 o'clock

19

Sep

10:00 o'clock

05

Oct

10:00 o'clock

08

Oct

10:00 o'clock

11

Oct

10:00 o'clock

15

Oct

10:00 o'clock

19

Oct

10:00 o'clock

22

Oct

10:00 o'clock

24

Oct

10:00 o'clock

25

Oct

10:00 o'clock

26

Oct

10:00 o'clock

27

Oct

10:00 o'clock

28

Oct

10:00 o'clock

29

Oct

10:00 o'clock

31

Oct

10:00 o'clock
Schloss Charlottenburg - Neuer Flügel, Spandauer Damm 78, 14059 Berlin