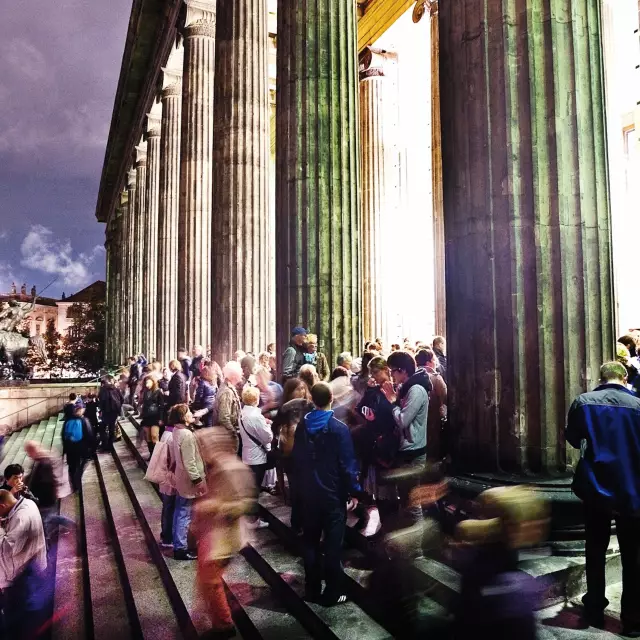 Long Night of Museums 2023
The Long Night of Museums in Berlin offers an unmistakable opportunity to come into direct contact with art and culture of all kinds.

From 6 p.m. until 2 a.m., the Lange Nacht der Museen offers over 700 events such as special exhibitions, installations and entertaining short guided tours, talks with contemporary witnesses*, readings with actors*, shows, workshops, culinary delights and music from tango to techno with just one ticket in 70 museums.

New: Four centers
For the first time in 2022, there were four centers as starting or meeting points, from where the Long Night of Museums can be perfectly conquered.

If you are looking for a starting point near you, want to get information, take a break or make an appointment, it is best to come to one of the four centers. Here you can get drinks and snacks, relax to DJ sets or be surprised by dance performances. The centers can be found at the following locations:

Charlottenburg/Museum Berggruen

Hamburger Bahnhof

Checkpoint Charlie

Lustgarten/Museum Island

The history behind the Long Night of Museums

The Long Night of the Museums is a true Berlin original. The first event of this kind takes place in February 1997 with 18 participating museums. To this day, the concept has proved to be a complete success. Thus the number of museums grows to over 70 today. Other cities have also adopted the concept: there are now 120 museum nights worldwide, such as in Amsterdam or Paris. Every year, the event represents the highlight of the cultural scene and inspires with an enormous variety of programmes: whether special tours, workshops, concerts or a look behind the scenes - at the 700 or so events in just one night, there is guaranteed to be something exciting for everyone.

This awaits you at the museum night

One ticket for the full programme: discover areas of art and culture that you didn't even know before!

With the shuttle buses provided, you can get from museum to museum as quickly as possible without losing much of your precious time. The total of three routes are of course included in the entrance fee.

There are also special offers for children and families, most of which start in the afternoon. Up to 12 years of age, the ticket is free of charge, shuttle buses are also included.

All visitors will also receive a Jelbi voucher worth 10€ upon presentation of their ticket on 27.8.2022 at the Jelbi pop-ups of the Long Night of Museums. They can pick up one voucher per ticket and redeem it in the Jelbi app for scooter or bike, car sharing or cab. The voucher is valid for one month from 27.8.2022.

Our tips for visiting the Long Night of Museums

Traditionally, the cultural experience begins on the Museum Island in Berlin-Mitte. The grand opening of the new James Simon Gallery is the official opening. Afterwards you decide the program: From 18:00 to 2:00 o'clock the doors are open at approximately 70 further museums in completely Berlin! Art historians and museum directors guide you through the rooms of their exhibitions, artists and musicians are waiting for you to meet them in talks and workshops.

The Long Night of the Museums is a unique opportunity to immerse yourself in Berlin's world of art, culture, science and technology.

verschiedene Veranstaltungsorte Berlin