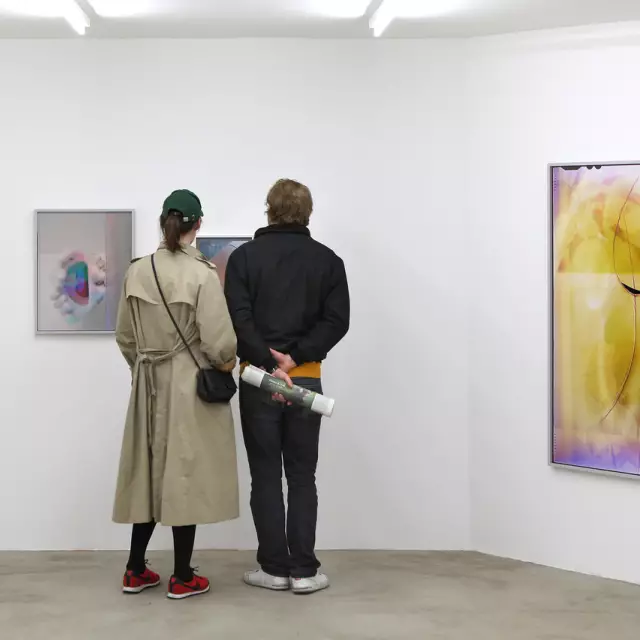 Gallery Weekend Berlin
Gallery Weekend Berlin has established itself as a highlight in the art calendar, celebrating Berlin's galleries and artist with its unique format that combines high-profile exhibitions and the experience of city and gallery space.

55 Berlin galleries opened 2023 exhibitions of young and established artists and welcomed numerous visitors:inside from all over the world.

The numerous concerted exhibition openings and events of Gallery Weekend Berlin will bring together collectors, artists, museum directors, curators, journalists and art lovers from all over the world in Berlin.

ALL PARTICIPATING GALLERIES AND ARTISTS 2023

Galerie Bastian, Cy Twombly / Galerie Guido W. Baudach, Björn Dahlem / Galerie Isabella Bortolozzi, Diamond Stingily / BQ, Alexandra Bircken / Galerie Buchholz, Samuel Hindolo / Buchmann, Jason Martin / Capitain Petzel, Malcolm Morley / carlier I gebauer, Lucia Koch / ChertLüdde, Monia Ben Hamouda, Clemen Parrocchetti, Sandra Poulson / Mehdi Chouakri, Saâdane Afif, Konstantin Grcic, Charlotte Posenenske / Contemporary Fine Arts, Henning Strassburger / Crone Berlin, Simurg. Zehn Künstlerinnen aus Iran / Dittrich & Schlechtriem, Andrej Dúbravský / Ebensperger, Bjørn Melhus / Efremidis, Tony Just, Reba Maybury / Galerie EIGEN + ART, Olaf Nicolai, Elsa Rouy, Emilia Urbanek / Konrad Fischer Galerie, Paloma Varga Weisz / Lars Friedrich, Min Yoon / Galerie Friese, Thomas Müller / Galerie Michael Haas, George Rickey, Louise Nevelson / Heidi, Jordan Strafer / Max Hetzler, Katharina Grosse, Raphaela Simon, In defense of symbolic value, kuratiert von Isabelle Graw / Hua International, Chen Dandizi / Galerie Judin, Lydia Pettit / Kewenig, Ted Stamm / Kicken, Sheroes of Photography Part V / Klemm's, Renaud Regnery / Noah Klink, Josefine Reisch / Klosterfelde Edition, Jorinde Voigt / KOW, Hiwa K / Kraupa-Tuskany Zeidler, Slavs and Tatars / LEVY Galerie, Max Neumann / alexander levy, Anne Duk Hee Jordan / Meyer Riegger, Sheila Hicks / Neu, Yngve Holen / neugerriemschneider, Andreas Eriksson, Jorge Pardo / Galerie Nordenhake, Sophie Reinhold / Galerie Georg Nothelfer, K.R.H. Sonderborg / Peres Projects, Dylan Solomon Kraus / Plan B, Adrian Ghenie / PSM, Aziz Hazara / Schiefe Zähne, Leyla Yenirce / Esther Schipper, Hito Steyerl, Sun Yitian / Galerie Thomas Schulte, Marina Adams / Société, n.n. / Soy Capitán, Paloma Proudfoot / Sprüth Magers, Cao Fei / Sweetwater, Rhea Dillon / Galerie Barbara Thumm, Kaloki Nyamai / Tanja Wagner, Kapwani Kiwanga / Galerie Barbara Weiss | Trautmann & Herleth, Frieda Toranzo Jaeger / WENTRUP, Britta Thie / Galerie Michael Werner, Gaston Chaissac / Kunsthandel Wolfgang Werner, Olle Bærtling, Gerhard von Graevenitz, Richard Mortensen / Barbara Wien, Michael Rakowitz

About Gallery Weekend Berlin

Every spring, around 50 Berlin galleries open exhibitions by young and established artists and welcome numerous visitorsfrom all over the world.

The Gallery Weekend is characterized by the strong cohesion and close cooperation among Berlin galleries and strengthens the gallery location, which is dedicated to the support and sustainable development of artists:inside.

Founded in 2005 by Berlin galleries, this art event has established itself as a highlight in the international art calendar.