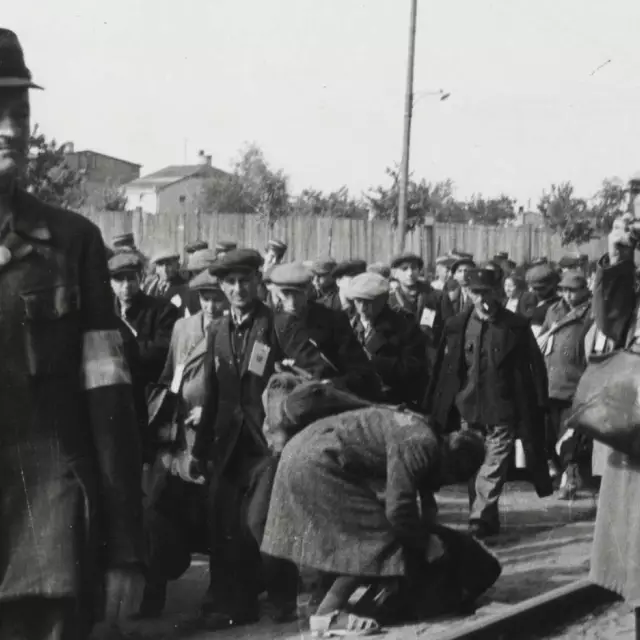 Flashes of Memory
At Berlin's Museum of Photography, the international Holocaust memorial Yad Vashem is showing its acclaimed exhibition "Flashes of Memory." The exhibition presents a critical account of the visual documentation - photographs and films - created during the Holocaust by German and Jewish photographers, as well as by members of the Allied forces during the liberation.

The show opened in Jerusalem in January 2018. It highlights the circumstances of photographing and the perspectives of both professional and private photographers, emphasizing the special and unique perspective of Jewish photographers.

"Visual documentation is one of the most important factors shaping historical awareness about the Holocaust" wrote the Jerusalem Post 2018 on the occasion of the exhibition "Flashes of Memory" in Israel. Against this background, the presentation of the exhibition in Germany in 2022 is of particular relevance.

A special exhibition by Yad Vashem in cooperation with the Kunstbibliothek - Staatliche Museen zu Berlin

cantly to knowledge of the Holocaust, influenced the manner in which it has been analyzed and understood and affected the way it has been engraved in the collective memory.

Kalender
27

Sep

11:00 o'clock

11

Oct

11:00 o'clock

14

Oct

11:00 o'clock

15

Oct

11:00 o'clock

20

Oct

11:00 o'clock

22

Oct

11:00 o'clock

25

Oct

11:00 o'clock

26

Oct

11:00 o'clock

27

Oct

11:00 o'clock

31

Oct

11:00 o'clock

02

Nov

11:00 o'clock

10

Nov

11:00 o'clock

14

Nov

11:00 o'clock

15

Nov

11:00 o'clock

19

Nov

11:00 o'clock

21

Nov

11:00 o'clock

23

Nov

11:00 o'clock

25

Nov

11:00 o'clock

26

Nov

11:00 o'clock

28

Nov

11:00 o'clock

29

Nov

11:00 o'clock

03

Dec

11:00 o'clock

06

Dec

11:00 o'clock

09

Dec

11:00 o'clock

14

Dec

11:00 o'clock

15

Dec

11:00 o'clock

16

Dec

11:00 o'clock

17

Dec

11:00 o'clock

19

Dec

11:00 o'clock

23

Dec

11:00 o'clock

26

Dec

11:00 o'clock

28

Dec

11:00 o'clock

30

Dec

11:00 o'clock

02

Jan

11:00 o'clock

03

Jan

11:00 o'clock

06

Jan

11:00 o'clock

07

Jan

11:00 o'clock

09

Jan

11:00 o'clock

11

Jan

11:00 o'clock

12

Jan

11:00 o'clock

13

Jan

11:00 o'clock

14

Jan

11:00 o'clock

16

Jan

11:00 o'clock

19

Jan

11:00 o'clock

20

Jan

11:00 o'clock

21

Jan

11:00 o'clock

25

Jan

11:00 o'clock

26

Jan

11:00 o'clock

27

Jan

11:00 o'clock

28

Jan

11:00 o'clock
Museum für Fotografie - Helmut Newton Stiftung, Jebensstraße 2, 10623 Berlin