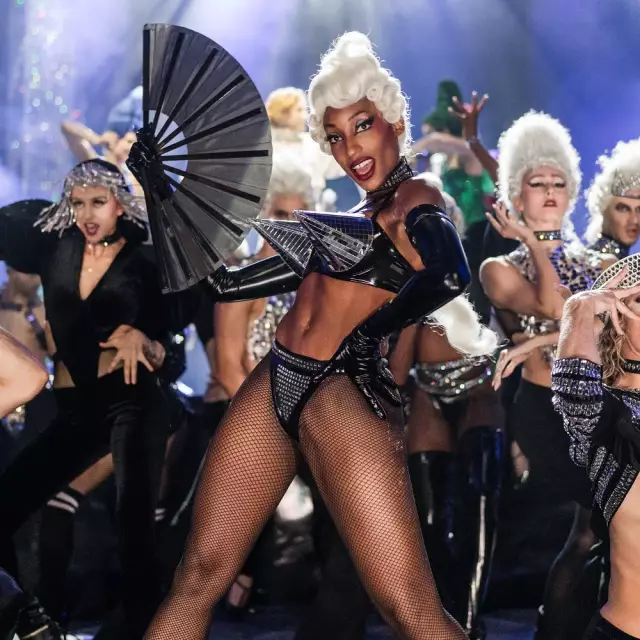 FALLING | IN LOVE
Berlin's new show jewel: The new Grand Show at Friedrichstadt-Palast Berlin, curated and visually designed by star designer Jean Paul GAULTIER, is a must-see in the German capital!

A new sea of colour and joie de vivre has been shining and surging in the Friedrichstadt-Palast Berlin since September 2023:

FALLING | IN LOVE is the most elaborate Grand Show ever, shaped by the ingenious signature of Parisian star designer Jean Paul GAULTIER.
Already in 2018, GAULTIER designed the costumes for the acclaimed THE ONE Grand Show at Friedrichstadt-Palast Berlin. This time, as Visual Design Director, his creative work is deeper and more comprehensive:

Jean Paul GAULTIER adds his signature visionary style & touch. As curator, he also brings to his side emerging fashion designer:ins whose work he loves.

FALLING | IN LOVE - Berlin's new show jewel sparkles and glitters magnificently!
The fascination of great revues from the 1920s to the ultra-modern Grand Shows at the Palast also lives from their lavish splendor, this not being able to get enough. Fact is: No production has ever sparkled and glittered to this extent in over a hundred years of the house's stage history.

About FALLING | IN LOVE

The visually two-part show name FALLING | IN LOVE visualizes an ambiguity.

In the current crisis-ridden times, the word FALLING in the title of the show picks up on a feeling many people have. At times, the ground that we thought was safe seems to be wavering or breaking up.

But at the palace, despite everything, people believe in the beauty of this world and the good in people. So the guests do not fall into the bottomless pit, but into a sea of colours - and love.

Leave the numb, petrified world behind and plunge headlong into the garden of love with You, a young poet.

The eternal human dream of a better world, it lives. Walled in under time-honoured norms. Will a deaf poet finally find the words that will make man-made walls shake and love blossom?

The new Grand Show is created from a play idea by Berndt Schmidt and Oliver Hoppmann.

Inspired by the poem 'The Garden of Love' by the English poet William Blake (1757-1827).

Written and directed by Oliver Hoppmann, one of the most successful showmakers in Europe.

Grand Show. Grand Emotions.
FALLING | IN LOVE - The Story

Who are You? You is young, full of passion and longing. But he doesn't fit into any templates. He finds no love in the petrified faces around him. When he is rejected again, You wishes only to sink into the ground. Then the gray asphalt of civilization shatters beneath his feet. And You falls into another reality.

There, in the hidden garden of love, he sees what he has never seen before. A surging sea of colors and beauty in all facets of our nature. The eternal human dream of a better world, it lives. Walled in under time-honored norms.

Will a young, deaf poet find the words in the end that will make man-made walls shake and love blossom?

FALLING | IN LOVE - Grand Show & Costume

Curator Jean Paul GAULTIER says: "I am delighted to work with the Palace once again and to curate FALLING | IN LOVE. Together with the Palast team, I can give my creativity much more freedom this time and work with new talents like Fecal Matter or Sasha Frolova. I can't wait for the audience to enjoy this new adventure."

For him, coming home after THE ONE Grand Show in 2018 is like coming home, because Jean Paul GAULTIER is passionate about revue.

Oliver Hoppmann, who is responsible for writing and directing the new Berlin show, says: "FALLING | IN LOVE is a finely tuned symbiosis of seductive joie de vivre and touching poetry. It shows extraordinary costume worlds in magnificent stage sets to dream about. A fascinating experience that springs from our time and leads into a vision."

In his capacity as curator, Jean Paul GAULTIER has chosen artists Hannah Rose and Steven Raj, who, under the name Fecal Matter, use their fashion to challenge gender boundaries and ideals of beauty. The brand name Fecal Matter stems from their interpretation of the consumer cycle and the feeling of how worthless material things can be.

With over a million followers, they use social media as a platform for their unique vision of beauty and reality.

GAULTIER has also brought in performance artist Sasha Frolova, who specializes in the particular material of latex. A multidisciplinary artist, Sasha Frolova combines artistic practice from the fields of performance art and sculpture, combining latex costumes with abstract forms.

With her striking aesthetic, Sasha Frolova designs not only spectacular inflatable latex costumes in the Grand Show, but additionally scenographic design elements for the largest theater stage in the world.

More than 100 artists from 28 nations participate in each performance.

Recommended for ages 8 and up.

Also suitable for guests without knowledge of German.

Kalender
30

Nov

19:30 o'clock

01

Dec

19:30 o'clock

02

Dec

19:30 o'clock

03

Dec

19:30 o'clock

05

Dec

19:30 o'clock

08

Dec

19:30 o'clock

09

Dec

15:30 o'clock

10

Dec

19:30 o'clock

12

Dec

19:30 o'clock

14

Dec

19:30 o'clock

21

Dec

19:30 o'clock

23

Dec

19:30 o'clock

25

Dec

15:30 o'clock

26

Dec

15:30 o'clock

26

Dec

19:30 o'clock

28

Dec

19:30 o'clock

30

Dec

15:30 o'clock

30

Dec

19:30 o'clock

02

Jan

19:30 o'clock

05

Jan

19:30 o'clock

11

Jan

19:30 o'clock

12

Jan

19:30 o'clock

16

Jan

19:30 o'clock

20

Jan

19:30 o'clock

23

Jan

19:30 o'clock

26

Jan

19:30 o'clock

27

Jan

19:30 o'clock

23

Feb

19:30 o'clock

27

Feb

19:30 o'clock

29

Feb

19:30 o'clock

01

Mar

19:30 o'clock

08

Mar

19:30 o'clock

09

Mar

19:30 o'clock

16

Mar

19:30 o'clock

22

Mar

19:30 o'clock

23

Mar

19:30 o'clock

30

Mar

19:30 o'clock

04

Apr

19:30 o'clock

11

Apr

19:30 o'clock

12

Apr

19:30 o'clock

13

Apr

15:30 o'clock

13

Apr

19:30 o'clock

14

Apr

15:30 o'clock

16

Apr

19:30 o'clock

18

Apr

19:30 o'clock

19

Apr

19:30 o'clock

20

Apr

15:30 o'clock

23

Apr

19:30 o'clock

27

Apr

15:30 o'clock

28

Apr

15:30 o'clock