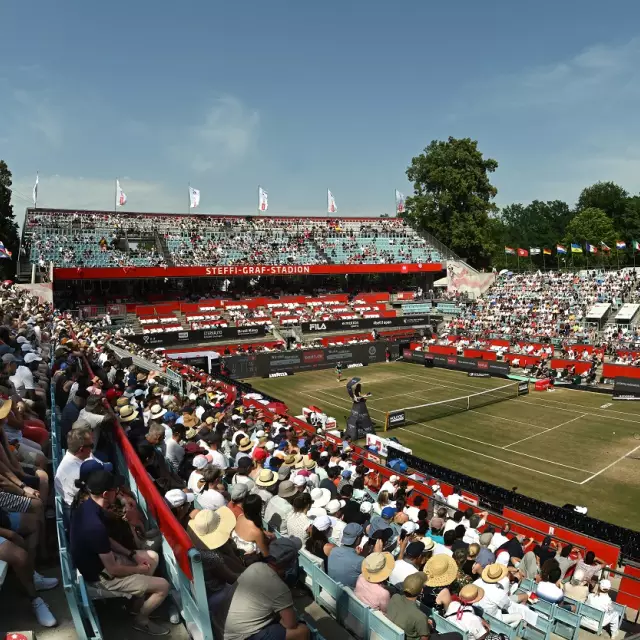 bett1 open
From 15 to 23 June 2024, the exclusive Wimbledon flair will again return to Berlin. Game, set and match! Tennis tradition and top tennis at the WTA event in Berlin. At the Steffi-Graf Stadium, Berlin once again shows itself to be a wonderful venue for Germany's largest women's tennis tournament.

bett1 open - Delivering again in 2024: World-class tennis + world-class line-up in Berlin.
The patron of the bett1 open 2023 was none other than former German tennis player and 22-time Grand Slam winner Steffi Graf. Almost 30,000 spectators attended the tournament this year. Tournament director Barbara Rittner: "Feedback from the players and the WTA was very, very positive!"

Tennis fans are looking forward to the world-class women's tennis, which follows the glorious Berlin tournament of the 80s and 90s with nine-time winner Steffi Graf. The absolute world class of the top 10 players will bring tennis from Berlin back to the center of global coverage.

From June 15 to 23, 2024, the Grass Court Championships Berlin will be held at the LTTC Rot-Weiß.

WTA 500 Event

Prize money: TBC

Stadium capacity: up to 7,000 seats

Outdoor

Surface: grass

WORLD CLASS TENNIS ON WIMBLEDON TURF
The bett1open sets new standards not only on but also off the court. Sportainment creates a whole new atmosphere for everyone - spectators and players alike.

In 2022, the tournament organizers were able to attract a diverse spectrum of artists from Berlin's art and culture scene for the supporting program. High-class tennis, urban art and music acts will be brought together to create a first-class overall experience.

Kalender
17

Jun

11:00 o'clock

18

Jun

11:00 o'clock

19

Jun

11:00 o'clock

20

Jun

11:00 o'clock

21

Jun

11:00 o'clock

22

Jun

11:00 o'clock

23

Jun

13:00 o'clock
Steffi-Graf-Stadion, Gottfried-von-Cramm-Weg, 14193 Berlin