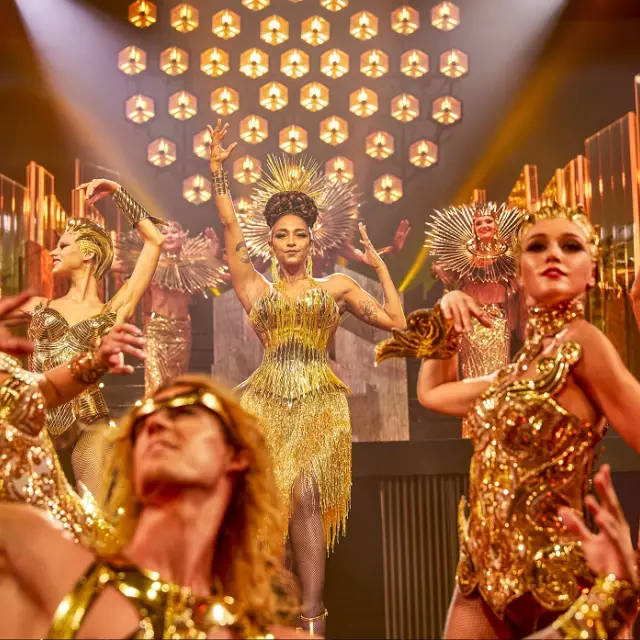 ARISE Grand Show
Cameron's life is like his paintings: abound with brilliant colours, enthralling, different. The sought-after photographer jets around the globe, always accompanied by his beloved muse. She is his only love and the inspiration for his art. When he loses her, his happiness is destroyed. Plunged into darkness, Cameron stares glumly at the photos on his walls. They exude an inexplicable attraction. And then they really do begin to return to life … Light magically draws him into his most emotional and beautiful memories. Is his muse maybe still trying to tell him something?

ARISE Grand Show
In ARISE, Cameron experiences first-hand that love withstands the test of time. ARISE means to stand up, not to give up, to keep faith in the heart-warming power of love.

The new Grand Show sparks a torrent of emotions that will also tug on your heartstrings and evoke powerful and magnificent images. Poignant and moving, it overflows with hope, happiness and a joy for life.

Fall in love with over 100 artists on the largest theater stage worldwide. Extravagant costumes, breathtaking stage sets and artistic performances will amaze you and put a happy smile on your face.
Our Feel Safe promise

Even though the increase in the number of people who have been vaccinated means that we are starting to feel more confident, we are still living in unpredictable times. As a state-run theatre, the Palast therefore offers its guests a triple Feel Safe promise:

1. TÜV-tested hygiene concept

The Palast is the first and up until now the only theatre to have gained the TÜV seal of quality "Tested Covid-19 Infection Protection" for its procedures and its hygiene concepts. Good to know: the new cutting edge ventilation system replaces the entire volume of air in the hall with fresh air up to eight times an hour.

2. 100% money-back guarantee

f a performance is cancelled, you can be sure of getting your money back within three weeks – automatically and without you having to put in a claim, as we are not implementing the legally permitted voucher system.

3. Free-of-charge rebooking

If something comes up and you can't attend the show after all, you can rebook the ticket you purchased for another date, up until two hours before the performance starts, without giving a reason, or you can exchange it for a voucher.

Kalender
23

Feb

19:30 o'clock

24

Feb

19:30 o'clock

26

Feb

15:30 o'clock

04

Mar

15:30 o'clock

11

Mar

15:30 o'clock

12

Mar

15:30 o'clock

14

Mar

19:30 o'clock

16

Mar

19:30 o'clock

19

Mar

15:30 o'clock

21

Mar

19:30 o'clock

23

Mar

19:30 o'clock

25

Mar

19:30 o'clock

01

Apr

19:30 o'clock

02

Apr

15:30 o'clock

06

Apr

19:30 o'clock

08

Apr

19:30 o'clock

11

Apr

19:30 o'clock

14

Apr

19:30 o'clock

15

Apr

19:30 o'clock

18

Apr

19:30 o'clock

20

Apr

19:30 o'clock

21

Apr

19:30 o'clock

25

Apr

19:30 o'clock

30

Apr

19:30 o'clock

02

May

19:30 o'clock

05

May

19:30 o'clock

06

May

19:30 o'clock

09

May

19:30 o'clock

13

May

19:30 o'clock

14

May

15:30 o'clock

18

May

19:30 o'clock

20

May

15:30 o'clock

20

May

19:30 o'clock

21

May

19:30 o'clock

23

May

19:30 o'clock

26

May

19:30 o'clock

27

May

15:30 o'clock

27

May

19:30 o'clock

28

May

19:30 o'clock

01

Jun

19:30 o'clock

02

Jun

19:30 o'clock

03

Jun

19:30 o'clock

08

Jun

19:30 o'clock

09

Jun

19:30 o'clock

13

Jun

19:30 o'clock

23

Jun

19:30 o'clock

24

Jun

19:30 o'clock

01

Jul

15:30 o'clock

02

Jul

15:30 o'clock

08

Jul

15:30 o'clock