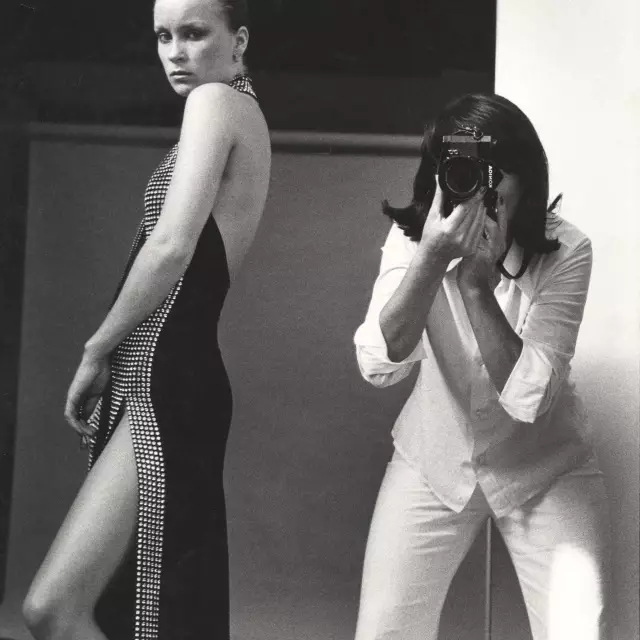 Alice Springs: Retrospective
The Helmut Newton Foundation is dedicating a large-scale retrospective to photographer June Newton, aka Alice Springs, on the occasion of her 100th birthday, with more than 200 photographs on the entire exhibition space on the second floor of the Museum of Photography.

Alice Springs and Helmut Newton have exhibited together several times, most notably the joint photography project "Us and Them." Larger Alice Springs exhibitions were previously held at the Helmut Newton Foundation in 2010 and 2016.

In the numerous portraits of her fellow photographers and other celebrities, Alice Springs succeeds not only in capturing the sitter's appearance, but also their aura. This is shown, for example, in her photographic portraits of Richard Avedon, Brassaï, Ralph Gibson, and of course Helmut Newton - or Nicole Kidman, Audrey Hepburn, Christopher Lambert, or Claude Chabrol.

A wordless dialogue with the sitters that leads to the extraordinary photographs seems to be based on a kind of soul mate. In addition to the sometimes iconic portraits, there will also be numerous new discoveries in the retrospective, which will in turn be accompanied by a major monograph.

A special exhibition of the Helmut Newton Foundation at the Museum of Photography - National Museums in Berlin.

Museum für Fotografie - Helmut Newton Stiftung, Jebensstraße 2, 10623 Berlin