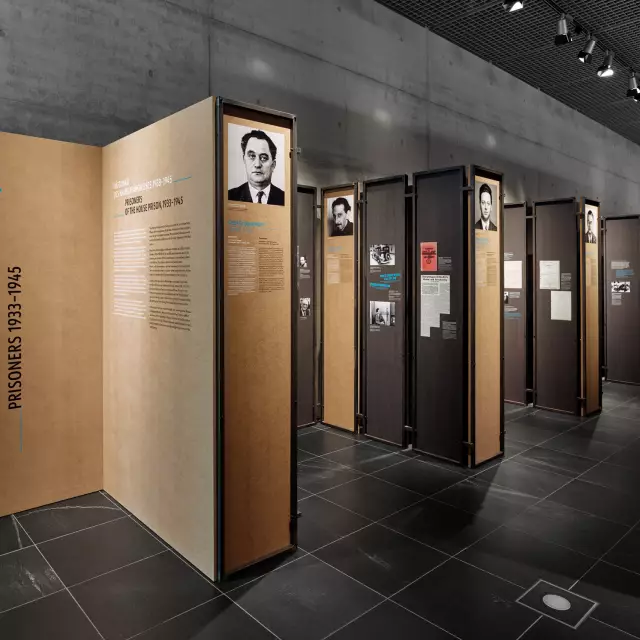 A special kind of police custody: the house prison of the Secret State Police Office in Berlin 1933-1945.
In the summer of 1933, the Gestapo set up its own prison in the newly founded Secret State Police Office. It was located in the basement in the south wing of the building at Prinz-Albrecht-Strasse 8, which had originally been built as an arts and crafts school.

A large number of the prisoners in the house prison were politically persecuted people, from whose interrogation the Gestapo expected to gain special insights. Among them were numerous members of the German resistance, but also foreign opponents of the Nazi regime.

During the interrogations, many prisoners were tortured. Some committed suicide. It is estimated that several thousand prisoners were held in the house prison from 1933 to 1945. For most prisoners, the prison was only one, often the first, stage of a long ordeal through detention centers and concentration camps.

Kalender
06

May

10:00 o'clock

07

May

10:00 o'clock

14

Aug

10:00 o'clock

17

Aug

10:00 o'clock

18

Aug

10:00 o'clock

23

Aug

10:00 o'clock

24

Aug

10:00 o'clock

25

Aug

10:00 o'clock

26

Aug

10:00 o'clock

27

Aug

10:00 o'clock

31

Aug

10:00 o'clock

02

Sep

10:00 o'clock

03

Sep

10:00 o'clock

05

Sep

10:00 o'clock

07

Sep

10:00 o'clock

10

Sep

10:00 o'clock

11

Sep

10:00 o'clock

12

Sep

10:00 o'clock

14

Sep

10:00 o'clock

16

Sep

10:00 o'clock

17

Sep

10:00 o'clock

24

Sep

10:00 o'clock

25

Sep

10:00 o'clock

27

Sep

10:00 o'clock

28

Sep

10:00 o'clock

29

Sep

10:00 o'clock

30

Sep

10:00 o'clock

02

Oct

10:00 o'clock

04

Oct

10:00 o'clock

05

Oct

10:00 o'clock

09

Oct

10:00 o'clock

10

Oct

10:00 o'clock

11

Oct

10:00 o'clock

13

Oct

10:00 o'clock

14

Oct

10:00 o'clock

16

Oct

10:00 o'clock

17

Oct

10:00 o'clock

18

Oct

10:00 o'clock

21

Oct

10:00 o'clock

23

Oct

10:00 o'clock

25

Oct

10:00 o'clock

29

Oct

10:00 o'clock

30

Oct

10:00 o'clock

01

Nov

10:00 o'clock

04

Nov

10:00 o'clock

05

Nov

10:00 o'clock

06

Nov

10:00 o'clock

07

Nov

10:00 o'clock

08

Nov

10:00 o'clock

12

Nov

10:00 o'clock
Topographie des Terrors - Dokumentationszentrum, Niederkirchnerstraße 8, 10963 Berlin