Tips and tricks for sustainable event planning in Berlin
Sustainable planning – that's the way to do it!
The path is the goal. Let sustainability flow into all stages of event planning and check how and where you can plan meetings and events sustainably.
Here we give you some ideas for the time before, during and after the event:
Inviting – how to reach your participants sustainably!
Here, the rule is less is more. The greenest variation is the paperless electronic invite. But if the haptic experience of holding a physical invitation is important, then Berlin has resource-aware printers and sustainable packing solutions.
>>> Our tip: Use 100% recycled paper – in comparison to virgin paper, approx. 70% less water and 60% less energy is needed to produce recycled paper. Invites with value-added are also popular and avoid the fast-track to the waste bin. How about a wooden postcard, a pop-up card, a mobile or a seed card? Once planted, the seed card paper will grow into a beautiful sea of flowers! It's hard to think of anything more sustainable.
Trusting – use transparent and credible seals!
Especially in the planning phase of meetings, incentives, congresses and events it is not so easy to find the right partner or the most appropriate product.
>>> Our tip: Accreditation and quality marks help event planners select sustainable partners and event services, and also provide an incentive for businesses to improve their reputation externally (and internally). Examples of trusted and recognised retail ecolabels relevant for CSR (corporate social responsibility) certificates include the Blue Angel, introduced by the German federal government in 1978, the Fairtrade label and the EU organic logo.
With its overview of sustainable partners in Berlin's MICE sector, Sustainable Meetings Berlin also saves you the work of searching for and comparing services.
Arriving – safe and relaxed with the Deutsche Bahn!
As a rule, the main environmental impact of events is due to travel – both to the event and back as well as at the location.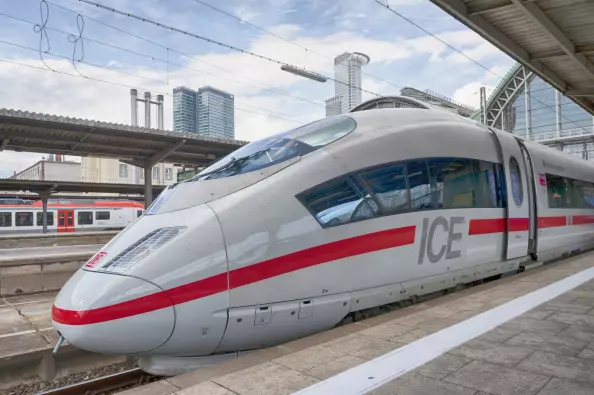 >>> Our tip: Encourage participants from within Germany to take a greener travel option with the DB rail Veranstaltungsticket (Meetings Ticket) or use such practical online tools as Doodle or Karzoo to create car pools – allowing participants to get to know each other even before the event. In Berlin, the best option for sustainable travel is the BVG local transport "Congress Ticket" with free travel on the S-Bahn (city railway) and U-Bahn (tube), as well as buses and trams. As an alternative to public transport, why not organise Velotaxis as a green shuttle service or (e-)bikes for a city tour? Or, for an especially memorable experience, how about Segways for location hopping!
Staying – sustainable conference hotels and event locations
Berlin offers a wealth of conference hotels and outstanding locations.
>>> Our tip: Make sure you opt for fast routes and short distances between the event location and accommodation. When your participants arrive, let them know the best routes with public transport, or to walk or cycle. This not only allows your guests to optimise their time management, but also enjoy a relaxed stay without undue travel.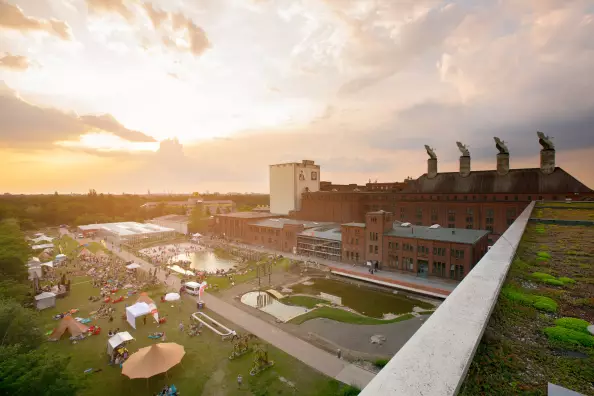 Learning – give participants time to discover Berlin!
Frequently, accompanying programmes at events include city or sightseeing tours.
>>> Our tip: For a change, take your guests on a green tour through Berlin – and for the best preparation, join one yourself during your event planning phase. In this way, you can discover creative sites of sustainability, and pass fresh and valuable ideas on to your guests. The learning effect is significant – and guaranteed sustainable!
Saving – make energy visible and experienceable!
Events are often major consumers of energy and paper.
>>> Our tip: Solar lamps and lanterns are a stylish and energy-efficient way of lighting indoor and outdoor areas. With sustainable solar jar lamps, you can even provide bottled sunlight in your own corporate design – and set an inspiring example for your guests to copy. Talking of lighting, when choosing your event partners make sure they use LED lights, since these require up to 90% less energy than standard lights. In addition, try to manage information flows without printing – especially where a good old blackboard would do instead. This method is just as effective for information signs or details of the food on the buffet – and can be used again and again... Der Energie- und Papierverbrauch auf Veranstaltungen ist oft sehr hoch.
Tasting – sustainable caterings are climate-friendly and tasty!
Producing a kilo of meat requires 22 kilos of grain and 50,000 litres of water.
>>> Our tip: Make the most of the fresh vegetables available around the year from urban indoor farmers, Berlin city gardens or regional organic farmers to plan a vegetarian meeting – and save around two kilos of carbon emissions. Ideally, source your non-regional products such as coffee and tea from Fairtrade suppliers and - if possible – from packaging-free supermarkets. Incidentally, Berlin's tap water is rated as especially good. Drinking tap water reduces transport emissions, saves the expense of bottled water, and can easily be provided in attractive carafes or in individual bottles as a give-away.
Open up – let accessibility and diversity bring a value to your event!
As a sustainable event organiser, you bear a responsibility to ensure your event is accessible and gender-neutral, and has a programme designed to include diversity.
>>> Our tip: From the start, be aware of the accessibility of your event facilities and the need for gender-neutral language. Open up your programme for NGOs, sustainable organisations and projects or representatives of associations working with social issues. Offer workshops on sustainability and show your participants climate-friendly solutions directly at your event.
Utilising – avoid food waste!
Waste and leftover food are a big issue at meetings and events, and often impossible to avoid completely – but they can frequently be recycled.
>>> Our tip: Donate any unused materials and waste to creative projects. For example, the Kunst-Stoffe - Central Department for Reusable Materials is a non-profit organisation providing "trash" materials for artists, DIYers, and educational facilities. On an app, you can easily post news of leftover food with a number of Berlin food sharing initiatives, ensuring a value-added since the food will not go to waste. Also on the topic of catering, avoid plastic and go for compostable single-use tableware of palm leaves with grass drinking straws. And in Berlin-style, instead of plastic badges or name tags, try adding your message to cool cardboard glasses – and create value-added, since your guests are sure to take them away and continue wearing them.
Give-Aways – meaningful and sustainable guest gifts!
All too often, give-aways and corporate gifts have a short half-live before they reach the wastepaper bin.
>>> Our tip: Design sustainable give-aways with a practical use or as a collector's item. By working together with Berlin designers on your corporate gifts, you can still offer your participants an array of gifts with a good conscience – from organic cotton bags to seed bombs to throw and grow!
Talking – sustainable event communication!
From the invitation to the welcome and the farewell – at green meetings, talking is gold.
>>> Our tip: From the start, add "sustainable events" as a topic of discussion for everyone at your event. Be open about telling your participants your sustainability targets and encourage them to become actively involved. After all, who wouldn't want to play a part at the year's event ranked best for recycling and with the lowest volume of waste? Afterwards, tell them of the goals achieved – and in this way recommend your sustainable event services, caterers, locations, conference hotels and event technologies in Berlin to other event organisers.
We support you with planning
Do you need help planning your Green Meeting in Berlin? Would you like more tips and tools for realising sustainable events in Berlin? Or are you looking for an unique event location, a exclusive  conference hotel or a suitable service provider?
Just write us at sustainable-meetings@visitBerlin.de. We would be hglad to assist you and lookin forward hearing from you! You will find an overview of our Sustainable Partners in our Meeting Guide Berlin.
related articles