Best practice festival for sustainable events
Climate neutrality and a great event like BESTIVAL do not have to be in opposition to each other. As a best practice example, BESTIVAL 2022 showed that sustainable event planning is possible, taking into account the 3 pillars of sustainability: ecology, economy and social. At BESTIVAL 2022, sustainability was made tangible in all areas of the event. The Sustainable Event Guidelines Berlin provided the structural framework for the planning in order to have the event certified according to ISO20121 in 2023. In the course of this, all information on our sustainability efforts for BESTIVAL 2023 can be found here.
VISION
Berlin should become one of the most sustainable, innovative and reliable metropolises in the world!
MISSION
BESTIVAL enables us to achieve our vision by motivating customers and partners to act sustainably.
GOALS OF BESTIVAL
Inspire the world for Berlin.
♦ To impart knowledge to customers, create sustainable experiences for them and provide access to a reliable B2B network.
♦ To position Berlin as a leading tourism and event destination in line with the sustainability criteria according to Sustainable Meetings Berlin and ISO 20121 in an international comparison.
♦ To promote the tourism and events industry in Berlin economically.
♦ The transformation towards a climate-friendly tourism and events industry in which resources are used sparingly in accordance with the principles of the circular economy, thus reducing CO2 emissions.
♦ A best practice for sustainable event planning: environmentally, socially, economically successful and following the obligations of Governance, Risk and Compliance with the help of the Sustainable Event Guidelines Berlin and ISO 20121.
♦ Increase awareness of Sustainable Meetings Berlin and Sustainable Tourism Berlin among customers and partners.
GOALS OF SUSTAINABLE MEETINGS BERLIN
► Sustainable Tourism Berlin und Sustainable Meetings Berlin sind die einzigen deutschen Zertifizierungsprogramme einer Region, deren Nachhaltigkeitskriterien für die Tourismus- und Veranstaltungsbranche vom Global Sustainable Tourism Council anerkannt sind ("GSTC recognized")
► Beitrag der Branche hinsichtlich Sustainable Development Goals
► Vorbild in Sachen Nachhaltigkeit werden
► Aktives Mitgestalten einer nachhaltigen Destination und touristischen Stadtentwicklung.
Interested stakeholders who are not yet actively involved in the Sustainable Berlin certification process are welcome to contact sustainable-meetings@visitBerlin.de
Here are our sustainable goals for 2022:
We aspire to make the BESTIVAL compliant with the international sustainability certification ISO20121.
As such, the planning is based on the criteria of the three sustainability dimensions: protection of the environment, social impact and economic components.
Climate neutrality with a reduction of CO2e emissions per capita by 10% (compared to BESTIVAL 2021)
Verification of all service providers through a supplier check according to ISO 20121
Implementation in accordance with the Sustainable Event Guidelines Berlin
Implementation of the sustainability plan. 
Here is what we have achieved:
We managed to limit and minimise emissions through proactive planning, but we also had to offset inevitable emissions according to the Gold Standard - well, nobody is perfect - and we can continue to perfect our efforts in this area.
For instance by giving participants a preferential travel option with the Deutsche Bahn (event ticket), by using the Berlin Welcome Card, which includes tickets for public transport, and by opting for vegetarian catering.
71,430 kg of CO2e greenhouse gases were emitted in the course of getting BESTIVAL up and running.
We had aimed for a 1:1 comparison of the emission balances of BESTIVAL 2021 and 2022, but it could not be done because the relevant criteria involved in both BESTIVAL events would not allow for a fair comparison:
in 2021, BESTIVAL took place under the shadow of Corona with only a few international participants, the location had to be kept warm in November.
The duration of both events, the number of venues and ultimately also the total number of participants differed to a substantial degree.
All service providers and partners, as far as they were not certified according to SMB, ISO or ISO9001 etc., were subjected to an audit, which also revolved around the corporate culture and the treatment of employees.  
We have an environmental report that is in alignment with international standards and reveals the areas where sustainability is being put into practice and the areas where there is room for improvement.
Here's our cause for celebration:
31.2 % of participants travelled to the event by bicycle
Berlin Meeting Campus, the combination of several venues, was implemented for the first time, 3 venues benefited from one event
The proportion of organically certified food for the catering amounted to 73% of the total, all food items were seasonal, and 100% of the food was not flown in.
We appreciate the enthusiasm of the participants for sustainability, the commitment of the partners to support our goals and of course the team that held it all together - a big THANK YOU!
Do you have questions about sustainable events and green meetings?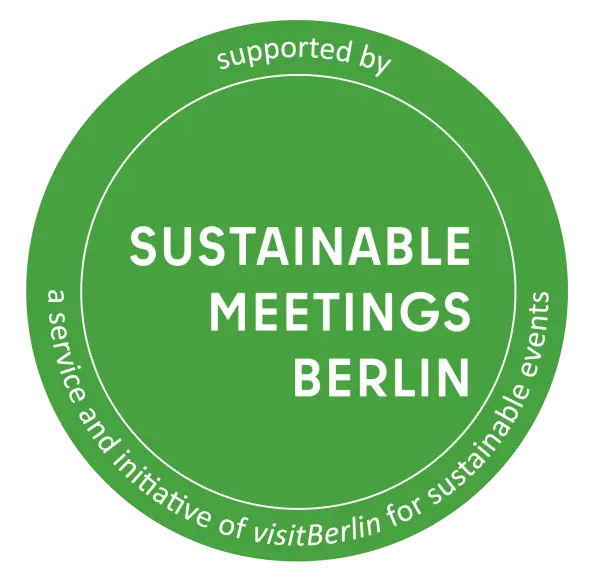 We will be happy to help you and share tips on how to make your event sustainable and where to find further information on this topic.
We look forward to discussing the ideas with you!
Your contact
The visitBerlin Berlin Convention Office - Contact us!
Downloads