Live Event "Made in Berlin"
Here we go again!
The Berlin Senate has decided to relax the rules for indoor and outdoor events. Since June 30th, events with up to 300 people are again allowed to take place indoors. The permitted number of persons will be gradually increased for indoor and outdoor events.
We have compiled all information and details for you.
It is therefore time to ask yourself how events can be carried out under these conditions and what event planners need to bear in mind.
What measures must be implemented in the future?
What must be considered for catering and equipment, or when registering participants?
And what will it be like for participants under these circumstances?
On July 9th 2020 we provided answers to these questions and together with our partners from visitBerlin Convention Partner e.V. and visitBerlin Partnerhotels e.V. we presented the hygiene concept of the Berlin event industry in theory and practice and showed how events can be safely implemented in Berlin.
Programme of the 09th July 2020
We have also integrated the answers in our FAQ section. Do you have further questions? Then please contact us at convention@visitBerlin.de.
See you in Berlin!

Your Team of the visitBerlin Berlin Convention Office

 
Voices of our participants

The visitBerlin "Made in Berlin" event demonstrated clearly how creating experiences is still possible even when keeping distance and following all hygiene protocols. This experience encourages us to let physical events take place again
A heartfelt thank you to visitBerlin for realizing this event in such a short time. Corona has upset the plans of the entire event industry. I am taking away a lot of input for upcoming events and can now convince my clients with more certainty to carry out events without hesitation even in these times.
Our partners
visitBerlin Convention Partner e.V.
The visitBerlin Convention Partner are the only MICE network in Germany with in-depth expertise and experience in Berlin. Our partners provide a range of services covering all areas of the event sector: agencies, locations, caterers, technical services, shuttle services and more. Among them you will find experienced, qualified service partners for your next event in Berlin. Together with the visitBerlin Berlin Convention Office, the association promotes and develops the MICE location in Berlin and at the same time sees itself as a communication platform for its members as well as representing the interests of the industry in relation to Berlin's politics and economy.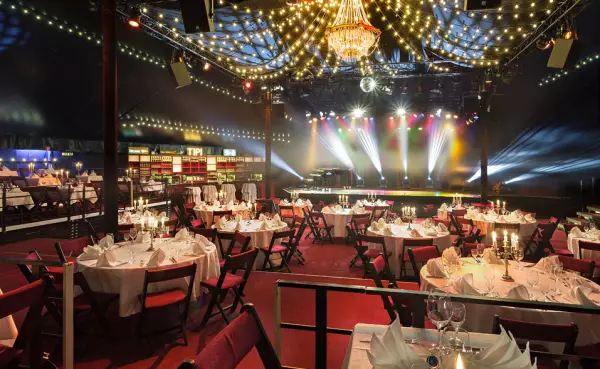 TIPI am Kanzleramt
Located in the middle of the government quarter, this location is regarded as one of Berlin's most exceptional event location. While here, visitors' eyes, ears and palate are delighted, as the own in-house catering service provides for the physical well-being. Be our guest or be the host of your own event. The festive marquee is available for exclusive events and is equally attractive to small and large groups due to its variable room layout.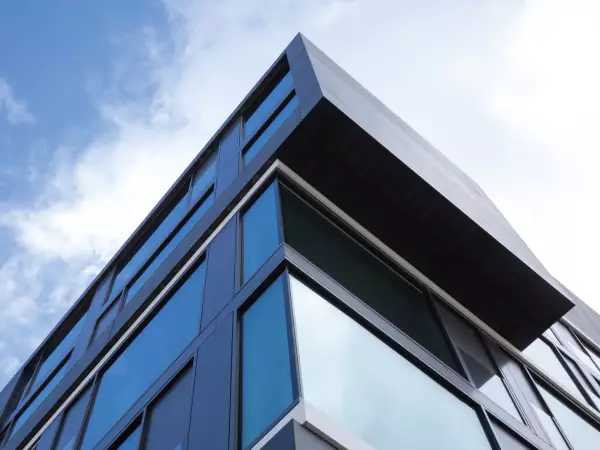 KPM Hotel & Residences
The KPM Hotel & Residences is embedded between the traditional ensemble of buildings of the legendary "Königliche Porzellan-Manufaktur Berlin" and the lush, urban green of the "Großer Tiergarten". The idea: 250 years of design history, modernly implemented in an innovative hotel concept for exclusive demands. The KPM Hotel & Residences combines a maximum of comfort and cosiness with a clear, individual design signature.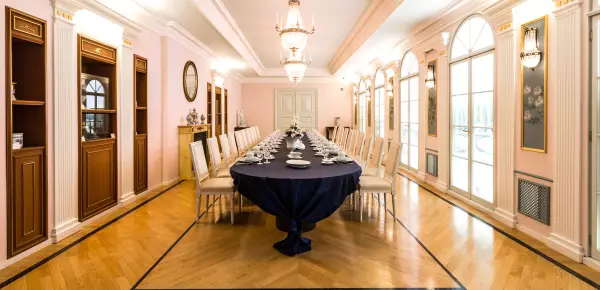 Königliche Porzellan-Manufaktur Berlin
Between tradition and innovation - under the roof of Berlin's oldest industrial monument is a highly attractive location for your event in Berlin! The Royal Porcelain Manufactory Berlin (Königliche Porzellan-Manufraktur Berlin, KPM) offers more than 3,000 m² of space for banquets, conferences, product presentations and other celebrations in a large or exclusive setting.
Novotel Berlin Am Tiergarten
The 4-star hotel is centrally located at the S-Bahn station Tiergarten, only 2 stations away from Berlin's central station and with a direct trade fair connection. You can also reach Tegel Airport (TXL) in only 20 minutes by car.
The hotel offers 274 rooms, including 11 suites and 23 executive rooms, as well as a secure underground car park with 110 parking spaces. 11 modern and light-flooded conference rooms from 19 - 361 sqm offer space for events for up to 350 people.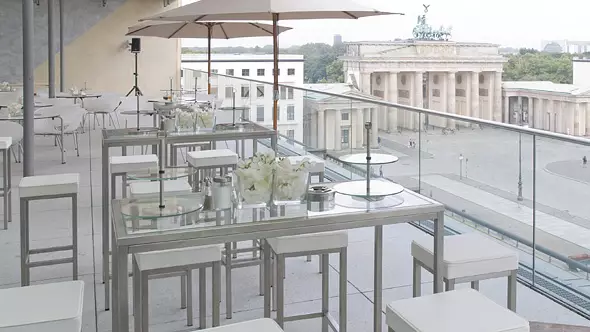 Eventwide Berlin
Eventwide designs and produces its entire event & rental furniture system itself in order to be able to act independently and autonomously. Over the last few years, an independent furniture system has been developed that is compatible and can therefore be extended without limits. By permanently developing the product range, Eventwide can react directly and quickly to trends and customer wishes and independently implement the vision of perfect event design. Since 2019, Eventwide Berlin is also certified Sustainable Meetings Berlin partner.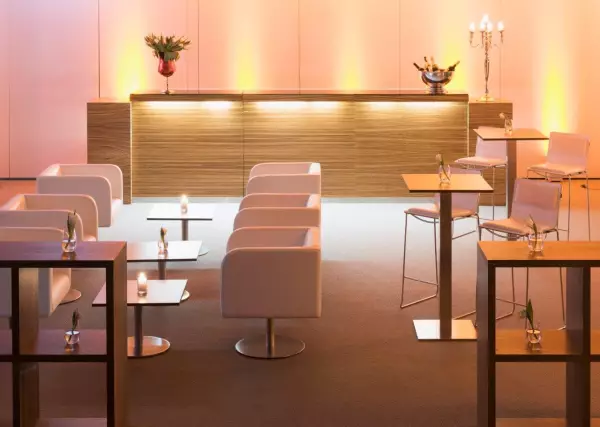 RENT4EVENT
RENT4EVENT offers a full range of supplies for events of all sizes in Berlin and the surrounding area. Products include banquet and design furniture, bars, kitchen equipment, glasses, crockery, and cutlery. The staff is glad to consult with you on the design of your event space and help to create individual seating charts for your event. In 2012, RENT4EVENT became the first event outfitter to earn the PrimaKlima Seal and offsets all of its CO2 emissions by funding reforestation projects.Since 2019, Rent4Event has also been certified as Sustainable Meetings Berlin partner.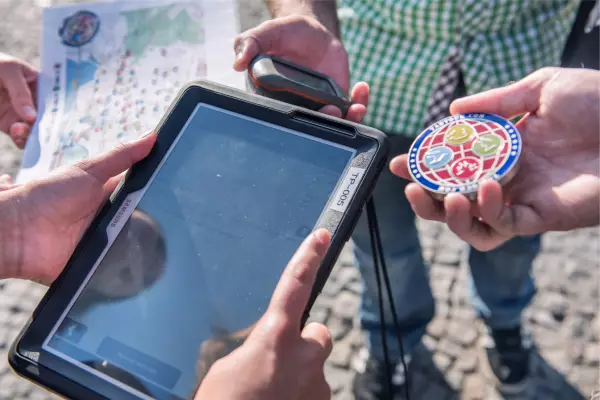 Teamgeist
The teamgeist group is the leading expert for team events, trainings and incentives for up to 2000 participants all over Germany and throughout Europe. Teamgeist activities connect people with water and land and convince with individual concepts being professionally put into action. Innovations in kick-off events and conferences are realised in the various digitalized modules. This transforms the regular iPad rallye into a fun event with knowledge transfer and team spirit.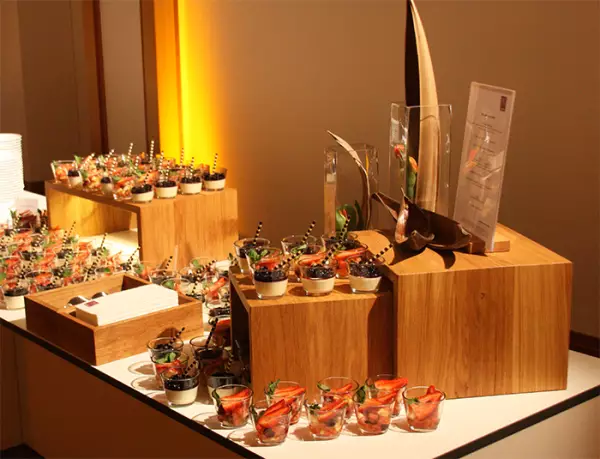 FLORIS Catering
Modern yet down-to-earth cuisine, regional dishes and products from ecological origin. Sustainability with "Greencatering" and since spring 2020 also confirmed by the certificate Sustainable Meetings Berlin. You can rely on many years of experience with Messe Catering and Event Catering at the right locations.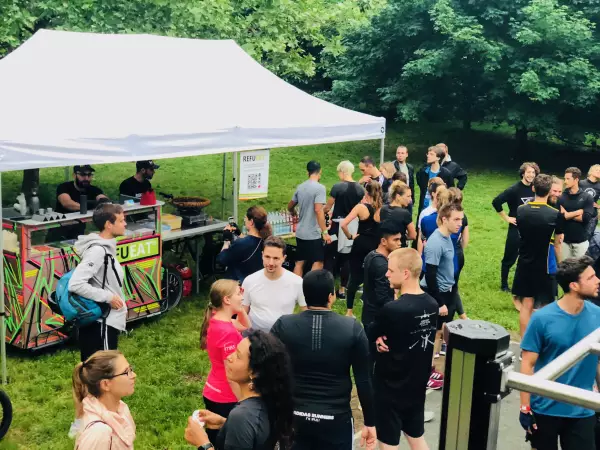 Refueat Catering
With mobile food stands based on delivery bikes and bicycle trailers, Refueat is able to reach places in Berlin and Potsdam that are inaccessible to cars, such as parks, gardens, backyards, rooftop terraces... The food is grilled, fried and cooked on the foodbikes on site. For some events, ready-prepared dishes with biodegradable, disposable tableware are being delivered. The delivery of prepared food and the on-site preparation of fresh food can also be combined. In addition, coffee, tea, and cake along with our sandwiches can be offered if desired. A rich buffet and a variety of finger food concepts round off the menu.
Your contact person
If a COVID-19 infection is confirmed in your case within 14 days of the event date, please let us know immediately. We are obliged to inform the responsible health authority. For this matter, please get in touch which: