Don't bin it – reuse it! Sustainable catering planning
Whatever size of event, it's one of the most common worries – will there be enough food? And what about the drinks? Will our guests be leaving hungry? Yet at the end, it is nearly always the opposite – your guests have gone, but the fridges are still full. The result? A lot of food waste.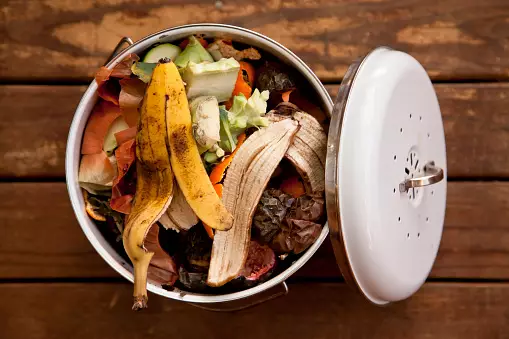 The Federal Ministry of Food and Agriculture (BMEL) estimates that every year around 12 million tonnes of food are thrown away in Germany down the food supply chain. And the WWF puts that figure even higher – at 18 million tonnes. From farms to event catering, food is being wasted. Bttr.live estimates that an event with just 100 people generates around 39 kilos of food waste. The monetary value of that food is nearly 900 euros – and with conventional event planning, it goes straight in the bin. So what are the main causes of this waste? Primarily, poor predictability and overportioning. According to bttr.live, on a classic buffet at least 18% of the food provided will not be eaten. A further 10 to 12% are kept in reserve, and by law have to be disposed of at the end of the meal. Every day energy, water and raw materials are all going to waste unnecessarily.
To counter this ecological, economic and ethical problem and stop food waste, growing numbers of companies in Berlin and Germany are developing smart ideas and solutions – not only for all consumers, but especially for the event industry.
Less is more – sustainable food use
To raise awareness of how we can reduce food waste as private and business consumers, the BMEL has launched too good for the bin, a nationwide campaign across Germany with tips on how to cut food waste – for instance, by following the BMEL's 10 Golden Rules to Prevent Food Waste.
In Berlin, with the Berlin Food Strategy ratified in summer, the Senate Department for Justice, Consumer Protection and Anti-Discrimination is pursuing an ambitious goal – turning Berlin into a Zero Waste City. To achieve this aim, the City of Berlin is actively supporting institutions and initiatives combating food waste.
Foodsharing – a smart idea
The foodsharing initiative is one of the Berlin Senate's prize winners. On the foodsharing.de platform, volunteers known as foodsharers and foodsavers rescue surplus or overproduced food from bakeries, supermarkets and businesses, as well as private homes. Founded in 2012 in Berlin, the foodsharing movement already has over 200,000 users worldwide. After an event, the organisers can simply have surplus food collected so it can be distributed through the growing foodsharing network.
The Berliner Tafel food bank works on a similar principle. Founded in 1993 as Germany's first food bank, the Berliner Tafel distributes donated food to the needy, not only fighting food waste but also poverty. By prior arrangement, the food bank collects and redistributes surplus food prepared by a catering business (i.e., not private households) and not yet placed on a buffet.
Sell it, don't bin it
At car boot sales and flea markets, you can sometimes find real treasures – and they offer a chance to sell on things we no longer need. Through a digital food market, this simple but ingenious idea has been transferred to surplus food. On the TooGoodToGo app, users can offer or buy excess food at affordable prices. The app already has nearly 9000 cafés, restaurants, bakeries, supermarkets and hotels on board. Most recently, Berlin questions organised its sustainable catering in a cooperation with TooGoodToGo. As that experience shows, after prior registration, event organisers can easily upload offers, adjust amounts short term, and arrange for surplus food to be collected.
SirPlus is the right address for anyone looking for rescued products at reduced prices. Together with over 700 partners – including the Berlin food bank – this local startup has saved a good 2500 tons of food since it was founded in 2017. No wonder the motto of the Sirplus online grocery store with its wide range of products is "Saving food is the new way of shopping".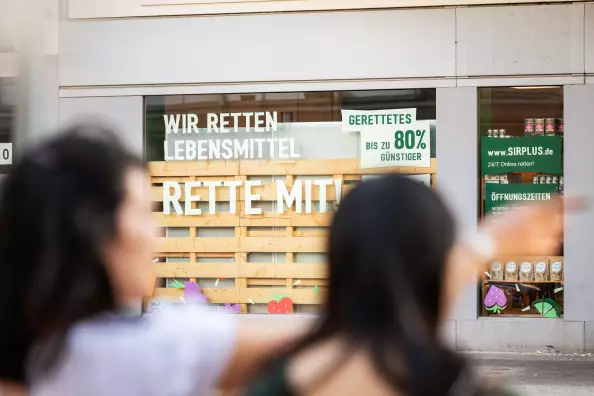 Berlin-based Roots Radicals is also dedicated to the fight against food waste. Following the principles of the circular economy and zero waste, Roots Radicals produces its own handcrafted, high-quality products from rescued food. The team are also happy to share the secrets of their products – in upcycling workshops or during catering for events.
Better planning – tips for event planners and services
Planning an event's catering can be the first step to cutting food waste. With a certified service partner from Sustainable Meetings Berlin, event organisers can find and book ecological, economic, and ethical sustainable catering.
The Berlin Convention Office's Sustainable Event Guidelines also give event planners valuable pointers on how to design sustainable events with a low environmental impact.
Moreover, numerous companies offer dedicated consulting services and expertise especially for food and beverage management in the MICE sector – including, for instance, bttr.live. As an operative management consultancy, the bttr.live team supports events of every kind to identify potential savings and develop strategic catering planning. Ultimately, the aim is creating a "better" approach resulting in a more sustainable event catering – from design to dismantling.
The non-profit initiative United Against Waste also focuses on well thought out approaches to food waste management, cutting food waste and saving money and valuable resources. In workshops and training courses, they develop and disseminate together with their customers a series of measures and recommendations for sustainable event catering.
What then remains ...
... you can take away with a clear conscious! According to "too good for the bin!" and Greentable, a national initiative for more sustainability in gastronomy and the out-of-home food market, restaurant visits or catering businesses generate food waste of 24 kilos per guest annually. To avoid this waste, the Restlos genießen ("enjoy completely") campaign supports a new restaurant culture and encourages the sale of "Beste Reste" boxes to give guests the option of taking their leftover food with them. Our tip: Event organisers and services can buy the Beste Reste "doggy bag" boxes in, for example, the METRO cash & carry markets or at Biofutura. At the end of an event, they can then let their guests know they would be glad to pack leftover food for them to take away.
We are happy to support you!
Sustainable Meetings Berlin offers a wealth of information about sustainability as well as the chance to contact suitable sustainable partners and event services – helping turn "green ideas" into sustainable events, congresses or conferences, and supporting green meetings and incentives in Germany's capital city.
Like to know more? Just email us at sustainable-meetings@visitBerlin.de.