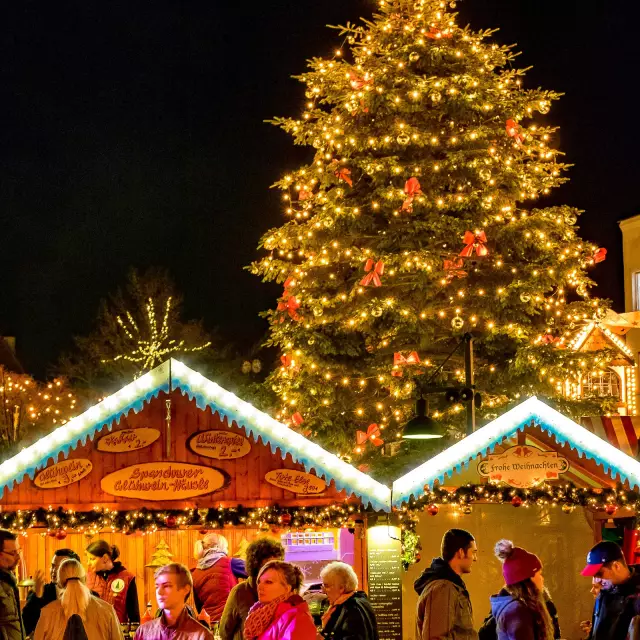 Spandau Christmas Market
Christmas is at home here. In Advent, the old town of Spandau is once again pervaded by the scent of roasted almonds, grilled bratwurst and delicious mulled wine. Children's eyes light up when they see colorful cotton candy and hearts beat faster for young and old when they meet Santa Claus.

From the town hall of Spandau to the church of St. Nikolai, as well as on the market square, artisans and traders offer their goods to browse, marvel at and, of course, to sell.

The popular medieval part of the Christmas market is once again on the southern part of Reformation Square by the Church of St. Nikolai.

In Berlin's largest connected pedestrian zone with its almost 120 retail shops and three department stores, as well as the Spandau Arcaden, which are only a few minutes' walk away, a visit to the Christmas market can be excellently combined with the search for the most beautiful surprises for Christmas for loved ones.

In terms of transport, the Spandau Christmas market is excellently connected. Located between the two underground stations Altstadt Spandau and Rathaus Spandau on line 7, in the immediate vicinity of the Spandau long-distance and regional train station with connections to the S-Bahn, regional and long-distance trains, as well as a wide variety of bus lines, every visitor will find their optimal connection with the public transport.

And if you don't want to do without your own vehicle, you have a free choice of almost 5,000 parking spaces in three parking lots and four multi-storey car parks located around Spandau's old town.

The Spandau Christmas market is open daily from 11 a.m. from November 27th to December 23rd and admission is free on all days.

The Spandau Christmas market is looking forward to seeing you!

Spandau Christmas market 2023

11/27/2023 – 12/23/2023

Opening hours:

Sunday to Thursday 11 a.m. to 8 p.m

Friday and Saturday 11 a.m. - 10 p.m

Kalender
27

Nov

11:00 o'clock

28

Nov

11:00 o'clock

29

Nov

11:00 o'clock

30

Nov

11:00 o'clock

01

Dec

11:00 o'clock

02

Dec

11:00 o'clock

03

Dec

11:00 o'clock

04

Dec

11:00 o'clock

05

Dec

11:00 o'clock

06

Dec

11:00 o'clock

07

Dec

11:00 o'clock

08

Dec

11:00 o'clock

09

Dec

11:00 o'clock

10

Dec

11:00 o'clock

11

Dec

11:00 o'clock

12

Dec

11:00 o'clock

13

Dec

11:00 o'clock

14

Dec

11:00 o'clock

15

Dec

11:00 o'clock

16

Dec

11:00 o'clock

17

Dec

11:00 o'clock

18

Dec

11:00 o'clock

19

Dec

11:00 o'clock

20

Dec

11:00 o'clock

21

Dec

11:00 o'clock

22

Dec

11:00 o'clock

23

Dec

11:00 o'clock
Altstadt Spandau, Markt 1, 13597 Berlin