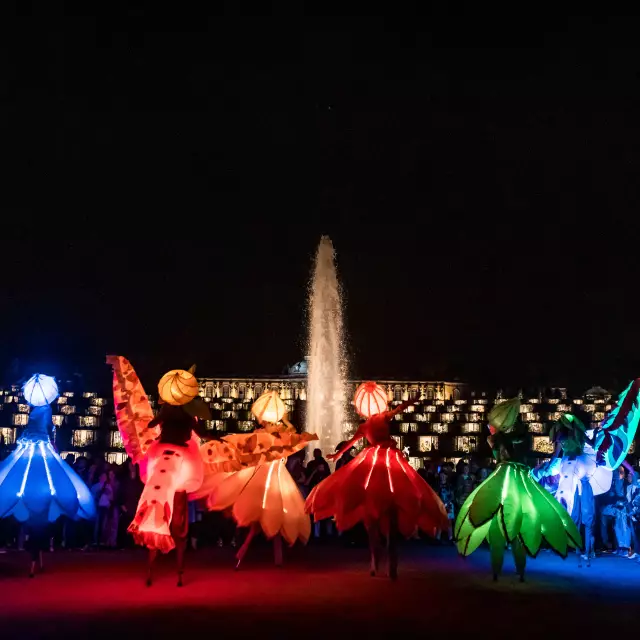 Potsdamer Schlössernacht
The next Potsdam Palace Night will transform the UNESCO World Heritage Site on the world-famous grounds of Park Sanssouci on August 18 and 19, 2023, for the 24th time into a huge stage full of music, acrobatics, readings, installations, workshops and

culinary delights.

"PRACHTIG!" Potsdam sees orange!

Flowery colorful and content "oranje" the traditional event 2023 thematically follows the annual motto of Potsdam's cultural partners "Holland in Potsdam". Thus, the motto of the evening transforms from "gorgeous" to "PRACHTIG!" Potsdam sees orange!

The visitors can look forward to countless surprises as well as whimsical and inspiring live moments at the Potsdam Palace Night in the spirit of the builder of Sanssouci Palace. The extraordinary mix of elaborate installations, national and international artists and a carefully selected culinary offer will encourage you to enjoy, dance, celebrate and discover.

A visit to Sanssouci Park is already a special experience during the day. An encounter in the midst of history, present and future. As soon as it gets dark and the night light route of the palace night invites you on a journey of discovery, the illuminated palaces and the park show themselves in a very special glow of lights.

Kalender
18

Aug

17:00 o'clock

19

Aug

17:00 o'clock
Park Sanssouci, Zur Historischen Mühle 1, 14469 Potsdam