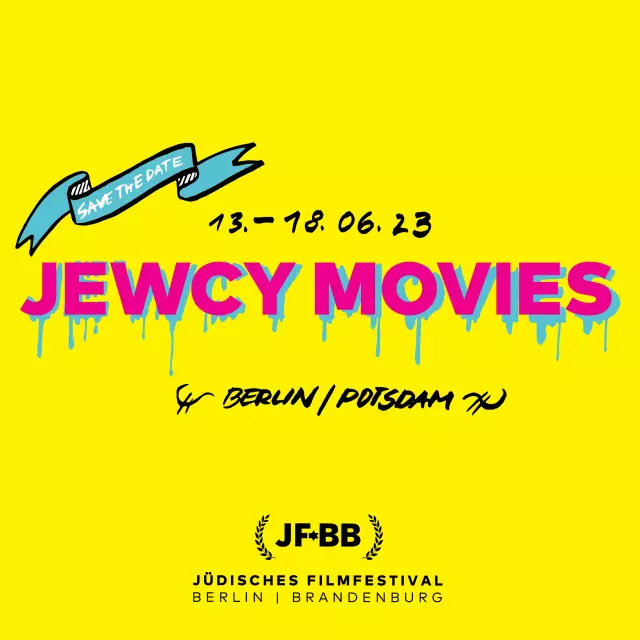 Jewish Film Festival Berlin & Brandenburg
The 29th Jewish Film Festival Berlin | Brandenburg (JFBB) is the largest Jewish film festival in Germany. It will take place again from June 13 to 18, 2023 in Berlin and Potsdam: Jewcy Movies - a film festival with over 40 films, across all genres. From blockbusters to comedies and arthouse cinema.

For six days, the entire cinematic diversity of Jewish experiences in Berlin and Potsdam, as well as other locations in the state of Brandenburg, will be on the big screen.

Immerse yourself in a festival week full of extraordinary films and talks, exhibitions, readings and concerts - from June 13 to 18, 2023.
Jewcy Movies - The Jewish Film Festival Berlin and Brandenburg is thoughtful and humorous, between individual life story, political essay and discussion-oriented documentary.

The festival illuminates Jewish history, present and future. Sometimes with a wink, but always profound.

Jewish themes are discussed, Jewish biographies are told, and Jewish life is shown in all its experience, tradition, and everyday culture.

The perspective of the filmmakers from all over the world is always special and beyond all common clichés.

After each film there are exciting discussions with the attending filmmakers, experts or contemporary witnesses.

A special concern of the JFBB is to keep the memory of the Shoa alive and to set a clear sign against anti-Semitism, intolerance, racism and any conspiracy theories.