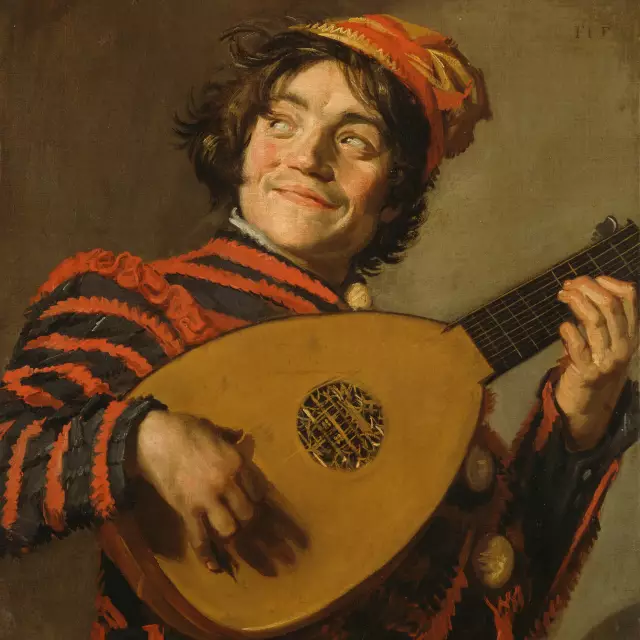 Frans Hals
Alongside Rembrandt and Vermeer, Frans Hals is one of the most outstanding Dutch painters of the 17th century. In 2024, Berlin is presenting a special exhibition in cooperation with London and Amsterdam to celebrate one of the greatest portrait painters of all time.

The exhibition presents around 70 works by the Haarlem artist, including highlights such as "Isaac Abrahamsz. Massa and Beatrix van der Laen", "Young Man with Skull" and "The Lute Player".

Frans Hals (1582/83-1666) is considered one of the most important portrait painters in history and a pioneer of modernism.
He created large-scale portraits of marksmen and regents and numerous individual portraits of the Dutch bourgeoisie in Haarlem. Hals' work, however, also contains a large selection of exceptional portraits of genre figures such as singers, showmen and fishermen's children.

He was the first artist in Holland to portray social outsiders, painting them with as much devotion as the bourgeois upper class of the Dutch Republic.

The unusual vividness and apt characterisation of his works, his free style of painting and his loose, bold brushwork made him the most modern artist of his time. Instead of conventional poses, he renders the fleeting moment of a movement or expression. His masterly-illusionist painting style makes the sitters seem lively, open and approachable.

Laughter or smiling is a particularly key element: in an unsurpassed way, he knows how to render laughing figures true to reality.
His sketch-like paintings served as models for the Impressionists and Realists of the late 19th century. Hals' work became a source of inspiration for artists such as:

Max Liebermann,

Wilhelm Leibl

and Lovis Corinth.

The Berlin exhibition will show works by these artists in the context of their great role model.
In addition to a high-quality selection of paintings by Hals, the Berlin special exhibition will also show works by those around him, thus situating him as an exceptional figure in the context of his time. Thus, the focus is not only on Hals' artistic work, but also on his influence on the development of European painting.

With ten works, the Berlin Gemäldegalerie preserves one of the most extensive and top-class collections of paintings by Frans Hals worldwide, including highlights such as the "Malle Babbe", the "Portrait of Catharina Hooft with her Nurse" or the "Singing Boy with Flute". In addition to loans from more than 20 collections in Europe, the USA and Canada, the Gemäldegalerie also presents works that have never been seen in Germany before, such as the monumental, over four-metre-wide "De magere compagnie".

The collaborative exhibition will first be shown at the National Gallery, London, at the Rijksmuseum, Amsterdam, and finally at the Gemäldegalerie in Berlin from 12 July to 3 November 2024.

The Berlin exhibition is curated by Katja Kleinert and Erik Eising.

Kalender
12

Jul

10:00 o'clock

13

Jul

11:00 o'clock

14

Jul

11:00 o'clock

16

Jul

10:00 o'clock

17

Jul

10:00 o'clock

18

Jul

10:00 o'clock

27

Jul

11:00 o'clock

28

Jul

11:00 o'clock

30

Jul

10:00 o'clock

01

Aug

10:00 o'clock

07

Aug

10:00 o'clock

09

Aug

10:00 o'clock

10

Aug

11:00 o'clock

13

Aug

10:00 o'clock

14

Aug

10:00 o'clock

16

Aug

10:00 o'clock

17

Aug

11:00 o'clock

22

Aug

10:00 o'clock

23

Aug

10:00 o'clock

24

Aug

11:00 o'clock

29

Aug

10:00 o'clock

31

Aug

11:00 o'clock

03

Sep

10:00 o'clock

08

Sep

11:00 o'clock

12

Sep

10:00 o'clock

13

Sep

10:00 o'clock

15

Sep

11:00 o'clock

17

Sep

10:00 o'clock

19

Sep

10:00 o'clock

20

Sep

10:00 o'clock

21

Sep

11:00 o'clock

22

Sep

11:00 o'clock

24

Sep

10:00 o'clock

29

Sep

11:00 o'clock

04

Oct

10:00 o'clock

06

Oct

11:00 o'clock

11

Oct

10:00 o'clock

12

Oct

11:00 o'clock

13

Oct

11:00 o'clock

15

Oct

10:00 o'clock

17

Oct

10:00 o'clock

18

Oct

10:00 o'clock

19

Oct

11:00 o'clock

20

Oct

11:00 o'clock

22

Oct

10:00 o'clock

24

Oct

10:00 o'clock

26

Oct

11:00 o'clock

31

Oct

10:00 o'clock

01

Nov

10:00 o'clock

02

Nov

11:00 o'clock
Gemäldegalerie, Matthäikirchplatz 4, 10785 Berlin