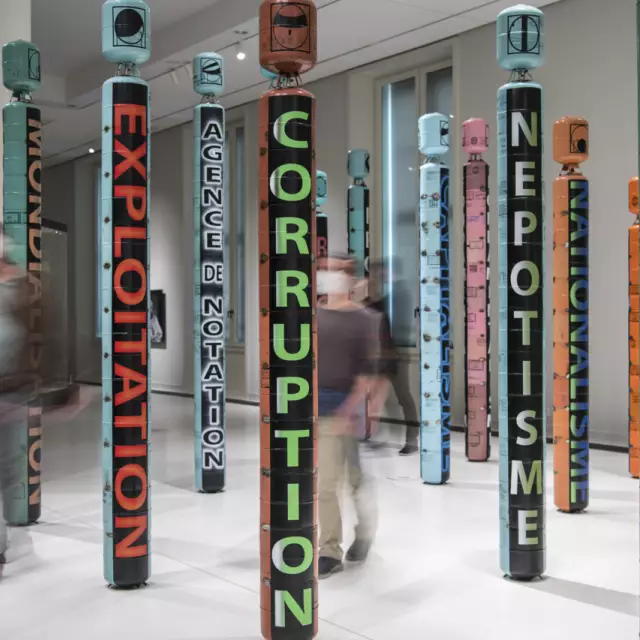 Contemporary Art at the Humboldt Forum
Whether in the staircase hall, on the roof terrace or in the middle of the exhibition spaces - the areas of the Berlin Humboldt Forum are home to numerous works of contemporary art, some of which take up large spaces.

In four competitions for seven locations in the Humboldt Forum, for example, artists were invited to address the history of the site, its future use as an exhibition and event centre, as a place of education and science in the context of Humboldt's ideas, or the external appearance of the building. Seven works of
art-on-
building
were realised that deal with the
history of the site
, with the Humboldt Forum as a
"place of the world"
, of encounter and exchange, that make reference to colonialism and coloniality or pay tribute to the namesakes, the brothers
Wilhelm
and
Alexander von Humboldt
.
These include:

Dellbrügge & de Moll The Architects (ground floor Small Foyer, in front of Halls 1 + 2)

Stefan Sous ZEITMASCHINE (2nd floor foyer in front of the Berlin exhibition)

An Seebach / Christiane Stegat: GLOBAL BAROCC - CCORAB LABOLG (2nd floor Ethnological Collections, staircases 2nd + 3rd floor)

Tim Trantenroth Untitled (2nd floor Ethnological Collections, 2nd + 3rd floor stairwell)

Kang Sunkoo Statue of Limitations (2nd + 3rd floor Central stairwell)

Antje Schiffers / Thomas Sprenger Insurgentes Sur (Roof Terrace)

Emeka Ogboh The Cosmos - Things Fall Apart (Roof Terrace)

Works by artists from various societies of origin also enrich the collections of the Ethnological Museum, the Museum of Asian Art and the Land Berlin.

Whether Ai Wei Wei's Teahouse under a contemporary interpretation of a Chinese pagoda roof by Pritzker Prize winner Wang Shu or the modern interpretation of a teahouse by the architectural firm URA Architects & Engineers, all works invite exciting discussions.

To be discovered are, for example:

Untitled by fashion designer Cynthia Schimming in the Namibia Collections

Township Walls by António Ole in the Africa section

"Codex Humboldt Fragment 1 / Codex Azoyú Reverso by the artist Mariana Castillo Deball in Mesoamerica

the installation Indignation by Justine Gaga in the module Colonial Entanglements

the 375 m² mural: New York Urban Artists How and Nosm (Berlin Global)

the teahouse developed by URA Architects from Kanazawa (Japan) in close coordination with the Chado Urasenke Teeweg Association in Berlin in the module "Art and Cult. Sacred Art in China and Japan

the artwork "The King, The Priest, The Chosen One" by Victor Ekihkamenor in the exhibition area "The Kingdom of Benin" of the Ethnological Museum

In addition to these examples, there are many other exciting works to be discovered. Except for the Berlin Global exhibition and the special exhibition areas, all areas in the Humboldt Forum are accessible free of charge. Go on a tour of discovery!

Kalender
07

Jun

10:30 o'clock

25

Jun

10:30 o'clock

30

Jun

10:30 o'clock

03

Jul

10:30 o'clock

09

Jul

10:30 o'clock

12

Jul

10:30 o'clock

13

Jul

10:30 o'clock

15

Jul

10:30 o'clock

15

Jul

10:30 o'clock

24

Jul

10:30 o'clock

26

Jul

10:30 o'clock

06

Aug

10:30 o'clock

12

Aug

10:30 o'clock

19

Aug

10:30 o'clock

08

Sep

10:30 o'clock

09

Sep

10:30 o'clock

11

Sep

10:30 o'clock

21

Sep

10:30 o'clock

22

Sep

10:30 o'clock

23

Sep

10:30 o'clock

25

Sep

10:30 o'clock

27

Sep

10:30 o'clock

28

Sep

10:30 o'clock

30

Sep

10:30 o'clock

02

Oct

10:30 o'clock

05

Oct

10:30 o'clock

11

Oct

10:30 o'clock

12

Oct

10:30 o'clock

14

Oct

10:30 o'clock

15

Oct

10:30 o'clock

16

Oct

10:30 o'clock

19

Oct

10:30 o'clock

12

Nov

10:30 o'clock

13

Nov

10:30 o'clock

17

Nov

10:30 o'clock

18

Nov

10:30 o'clock

19

Nov

10:30 o'clock

22

Nov

10:30 o'clock

24

Nov

10:30 o'clock

30

Nov

10:30 o'clock

04

Dec

10:30 o'clock

06

Dec

10:30 o'clock

07

Dec

10:30 o'clock

09

Dec

10:30 o'clock

11

Dec

10:30 o'clock

13

Dec

10:30 o'clock

14

Dec

10:30 o'clock

15

Dec

10:30 o'clock

18

Dec

10:30 o'clock

20

Dec

10:30 o'clock
Humboldt Forum, Schloßplatz, 10178 Berlin