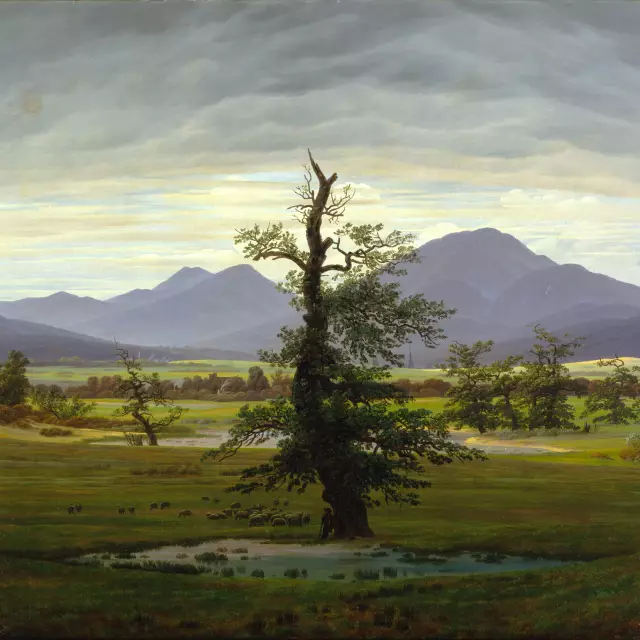 Caspar David Friedrich - Infinite Landscapes
On the occasion of the 250th anniversary of the birth of Caspar David Friedrich (1774-1840), the Alte Nationalgalerie Berlin will show a major exhibition of his work for the first time.

From April 19 to August 4, 2024, the oeuvre of the most prominent painter of the German Romantic movement will be the focus of the show "Caspar David Friedrich. The Rediscovery."
Roughly 60 paintings and 50 drawings by Caspar David Friedrich from Germany and abroad, including world-famous icons, will be on display on Berlin's Museum Island.

Even during Caspar David Friedrich's own lifetime, numerous acquisitions and public presentations in the Prussian capital of Berlin contributed to the artist's early fame. The Nationalgalerie preserves one of the world's largest collections of Friedrich's paintings. For this reason alone, an exhibition of this kind is long overdue in Berlin.

The National Gallery's role in the rediscovery of Friedrich's art at the beginning of the 20th century is the central theme of the exhibition.

In the second half of the 19th century, the painter had been almost forgotten until the National Gallery presented him with the legendary "Deutsche Jahrhundertausstellung" in 1906.

This show of 93 paintings and drawings by Caspar David Friedrich was more comprehensive than ever before.

Friedrich was celebrated as an outstanding painter with an extraordinary proficiency for capturing light and atmosphere, and as a pioneer of modern art.
Another exhibition chapter is dedicated to Caspar David Friedrich's pairs of paintings, with which the artist expressed different perspectives as well as the idea of change.

Probably the most famous pair of paintings - "Monk by the Sea" and "Abbey in the Oak Forest" - represents the uniqueness of the National Gallery's collection.

A third chapter of the major Berlin exhibition in the anniversary year of Caspar David Friedrich is devoted to the latest research findings on Friedrich's painting technique.

A special exhibition in cooperation with the Kupferstichkabinett of the National Museums in Berlin.

In 2024, Caspar David Friedrich's anniversary year, the Berlin exhibition will form part of a series of thematically distinct exhibitions held at the Hamburger Kunsthalle, the Alte Nationalgalerie Berlin, and the Staatliche Kunstsammlungen Dresden.
Kalender
19

Apr

10:00 o'clock

21

Apr

10:00 o'clock

25

Apr

10:00 o'clock

26

Apr

10:00 o'clock

04

May

10:00 o'clock

08

May

10:00 o'clock

10

May

10:00 o'clock

12

May

10:00 o'clock

16

May

10:00 o'clock

17

May

10:00 o'clock

18

May

10:00 o'clock

19

May

10:00 o'clock

21

May

10:00 o'clock

22

May

10:00 o'clock

23

May

10:00 o'clock

24

May

10:00 o'clock

25

May

10:00 o'clock

30

May

10:00 o'clock

01

Jun

10:00 o'clock

02

Jun

10:00 o'clock

04

Jun

10:00 o'clock

07

Jun

10:00 o'clock

08

Jun

10:00 o'clock

11

Jun

10:00 o'clock

12

Jun

10:00 o'clock

14

Jun

10:00 o'clock

15

Jun

10:00 o'clock

19

Jun

10:00 o'clock

20

Jun

10:00 o'clock

21

Jun

10:00 o'clock

23

Jun

10:00 o'clock

26

Jun

10:00 o'clock

30

Jun

10:00 o'clock

02

Jul

10:00 o'clock

03

Jul

10:00 o'clock

05

Jul

10:00 o'clock

06

Jul

10:00 o'clock

10

Jul

10:00 o'clock

11

Jul

10:00 o'clock

12

Jul

10:00 o'clock

13

Jul

10:00 o'clock

14

Jul

10:00 o'clock

16

Jul

10:00 o'clock

17

Jul

10:00 o'clock

23

Jul

10:00 o'clock

26

Jul

10:00 o'clock

27

Jul

10:00 o'clock

28

Jul

10:00 o'clock

03

Aug

10:00 o'clock

04

Aug

10:00 o'clock
Alte Nationalgalerie, Bodestraße 1, 10178 Berlin