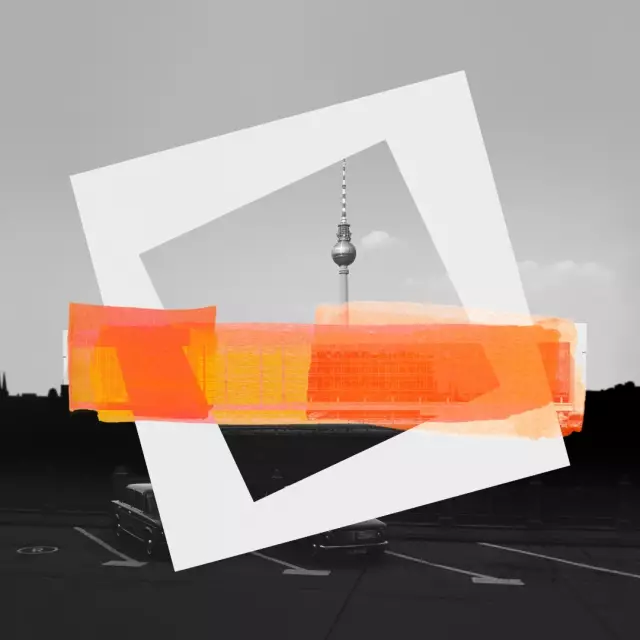 Blown Away: the Palace of the Republic
Loved and hated, admired and reviled, disappeared and yet not forgotten: Where the Humboldt Forum is located today, the Palace of the Republic once stood. It was the seat of the People's Chamber and a place of representation for the GDR, but also a site of official and everyday culture with modern design and contemporary artworks, 13 restaurants and cafés, a discotheque and a bowling alley. It is still present in the consciousness of many people today.

In March 1990, the first freely elected Volkskammer (People's Chamber) was constituted in the Palace of the Republic in Berlin, and it was there that the GDR decided to join the Federal Republic.

This marked the end of the Palace of the Republic's GDR history, and a few days later it was closed by the Berlin magistrate because of asbestos contamination. In 2002, the decision was made to "deconstruct" it.

What for some was the liberation from a representative building of the GDR's unjust state, others perceived as the erasure of history and the devaluation of East German biographies.
The Palace of the Republic is virtually inscribed in the DNA of the Humboldt Forum: It is founded on part of the palace's concrete basin, and according to the foundation's statutes, dealing with the history of the site from the Middle Ages to the present is one of the Humboldt Forum's central tasks.

Since 2014, the staff has been collecting, researching, publishing, and curating about the Palace of the Republic and establishing an ever-growing network. The growing collection includes essential parts of the interior design.

Twelve key objects can be seen as permanent "traces" in various parts of the building; the Palace of the Republic plays a central role in the permanent exhibition area "Videopanorama". Exhibitions, events and publications have already illuminated it from different perspectives.

Program for the exhibition

The Palace of the Republic is an occasion to ask about power and participation and to discuss the significance of symbol-political, identity-creating places in the present - a question of great topicality.

A diverse program opens up the thematic field chronologically. It deals with the architecture and use from 1973 to 1989, with the period of upheaval in 1989/90, the Schlossplatz debate and interim use until the demolition in 2008, and finally with the place of remembrance and current discussions.

Guided tours present objects from the history of the Palace of the Republic, provide insights into work processes and backgrounds, and tell personal stories.

Events and performances, installations and calls, discussion cafés and publications involve the public and contemporary witnesses and give the opportunity to get to know the different facets of the Palace of the Republic.

- more information to follow

- Language: German / English

- Location: Special exhibition area

- Duration: 16.05.2024-16.02.2025

Kalender
01

Jun

10:30 o'clock

09

Jun

10:30 o'clock

13

Jun

10:30 o'clock

17

Jun

10:30 o'clock

18

Jun

10:30 o'clock

20

Jun

10:30 o'clock

01

Jul

10:30 o'clock

02

Jul

10:30 o'clock

04

Aug

10:30 o'clock

11

Aug

10:30 o'clock

14

Aug

10:30 o'clock

19

Aug

10:30 o'clock

20

Aug

10:30 o'clock

26

Aug

10:30 o'clock

27

Aug

10:30 o'clock

28

Aug

10:30 o'clock

02

Sep

10:30 o'clock

13

Oct

10:30 o'clock

17

Oct

10:30 o'clock

20

Oct

10:30 o'clock

26

Oct

10:30 o'clock

27

Oct

10:30 o'clock

29

Oct

10:30 o'clock

05

Nov

10:30 o'clock

06

Nov

10:30 o'clock

08

Nov

10:30 o'clock

09

Nov

10:30 o'clock

11

Nov

10:30 o'clock

18

Nov

10:30 o'clock

09

Dec

10:30 o'clock

11

Dec

10:30 o'clock

14

Dec

10:30 o'clock

21

Dec

10:30 o'clock

22

Dec

10:30 o'clock

25

Dec

10:30 o'clock

28

Dec

10:30 o'clock

29

Dec

10:30 o'clock

01

Jan

10:30 o'clock

02

Jan

10:30 o'clock

04

Jan

10:30 o'clock

05

Jan

10:30 o'clock

10

Jan

10:30 o'clock

11

Jan

10:30 o'clock

13

Jan

10:30 o'clock

18

Jan

10:30 o'clock

23

Jan

10:30 o'clock

03

Feb

10:30 o'clock

06

Feb

10:30 o'clock

07

Feb

10:30 o'clock

09

Feb

10:30 o'clock