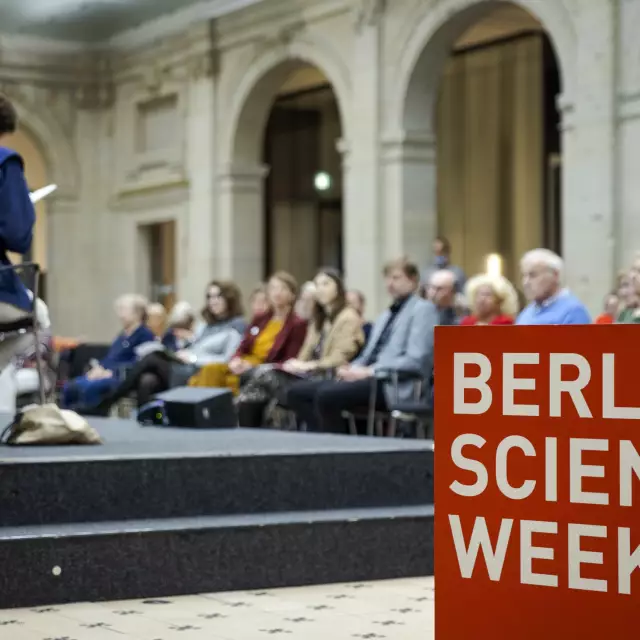 BERLIN SCIENCE WEEK
Berlin Science Week is a 10-day international festival between November 1 and 10, 2023 that brings together people from the most innovative scientific organizations from around the world to celebrate science and build bridges between the local and international science community, as well as the interested public.

Year after year, Berlin Science Week brings together outstanding organizations to share their work and knowledge through field trips, workshops, panel discussions, science slams, hackathons, meet-ups, keynotes, and many more activities.

Berlin Science Week CAMPUS

CAMPUS, the festival center in the spectacular Museum für Naturkunde in Berlin, has become a permanent fixture of the festival. In 2023, events, debates, workshops and experiments will again take place at this venue.

The motto of CAMPUS 2023 is "Dare to Know: Our Narratives, Our Future." The focus: international exchange and the promotion of engagement and networking opportunities.

FORUM Art & Science

For the first time, Holzmarkt 25 will open a second Berlin Science Week location, the Art & Science FORUM.

Art installations, performances and exhibitions will come together to showcase the wonderful potential of combining creativity and scientific rigor under the motto "Dare to Know: Creative Science, Precise Art".

The first Art and Science Forum at Holzmarkt 25 promises an exciting insight into the interplay between art and science.

Tiny galleries, scientific stand-up, science slams, jazz music and artist talks can be experienced at the Art and Science Forum at Holzmarkt 25.

On 5 November there will also be a small art and science fair, where artists:inside who create art inspired by science can be found at stalls.

BERLIN SCIENCE WEEK PARTY AT THE FORUM

The 2023 Science Festival will end with a bang: with the BERLIN SCIENCE WEEK PARTY IM FORUM on 10 November!

At the "Science of the Party" party in the Säälchen there will not only be breathtaking knowledge about parties, crowds, substances and clubs, but of course also epic DJs who will keep you grooving all night long.

Meet more than 500 scientists, innovators, and thought leaders at more than 200 events - on-site or, in some cases, digitally!
Be inspired by scientific breakthroughs, meet the brightest minds and participate in discussions, workshops and many other activities - and let's celebrate science together!