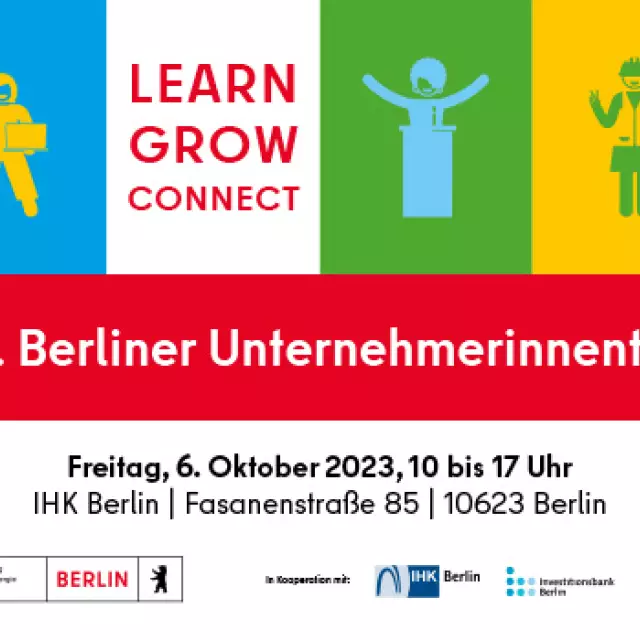 11. Berlin Women Entrepreneurs Day
LEARN. GROW. CONNECT." is the leitmotif of the "11th Berlin Female Entrepreneurs' Day", which will take place on Friday, October 6, 2023, from 10:00 a.m. to 5:30 p.m. in the Ludwig-Erhard-Haus (Fasanenstraße 85, 10623 Berlin). Entry is free.

11th Berlin Women Entrepreneurs' Day
The Senate Department for Economics, Energy and Business cordially invites you to this networking event, where entrepreneurs who want to venture into the corporate world come together. The event is held in cooperation with the Investment Bank Berlin, the Berlin Chamber of Commerce and Industry (IHK Berlin) and the Association of Berlin Merchants and Industrialists (VBKI).

The event will be opened by Sonja Jost, Vice President of the IHK Berlin. After the presentation of the newly chosen "Berlin Women Entrepreneurs of the Year", Mayor and Senator for Economics, Energy and Public Enterprises, Franziska Giffey, will welcome the participants.

The diverse program of the Entrepreneurs' Day includes plenary discussions, workshops and coaching offers as well as an accompanying information and contact exchange. The event is aimed equally at experienced female entrepreneurs who want to network and be inspired, as well as at women who are still in the start-up phase or are planning to become self-employed.

Senator Franziska Giffey emphasizes: "In Germany, only every third company is founded by a woman. We want to change this situation and encourage more women to become self-employed. The state of Berlin supports these efforts with various measures, including the promotion of the start-up center and an increased start-up bonus for masters.

The Berlin Women Entrepreneurs' Day is a further building block in this strategy. It enables women to exchange ideas and network and every year it highlights the enormous potential that we can still exploit. Women support women in shaping a thriving landscape of female entrepreneurs in Berlin with smart ideas and drive. I look forward to welcoming you on October 6th!"

The event also offers the opportunity to exchange and receive valuable tips from theory and practice. The initiators include Professor Alena Buyx, the chairwoman of the German Ethics Council, the financial expert Madame Moneypenny, gender expert Tinka Beller, futurologist Carina Stöttner, author Naomi Ryland as well as numerous committed entrepreneurs and experts from non-commercial associations, institutions and networks.

The main topics of this year's Women's Entrepreneurs' Day are "Sustainable business for a better future", "Artificial intelligence: smart but gender-related?", "Succession, handover and takeover" and "I can overcome crises! Master private and business challenges and learn from them" . These topics were selected primarily taking into account their relevance to business success.

In addition to the information and contact exchange, where over 20 exhibitors present their offers and provide useful contacts, participants have the opportunity to discuss individual concerns in individual discussions and coaching sessions.

Ludwig-Erhard-Haus - Konferenzzentrum, Fasanenstraße 85, 10623 Berlin