COMPENSATING FOR CARBON EMISSIONS
At present, many things are changing – first and foremost, the climate. As a result, the event sector too is on course for significant changes to help protect the environment and our climate. Across all event sectors and areas of society, the debate on possible sustainable event formats, green meetings and eco-friendly event planning is in full swing. Here, an important role is played by carbon offsetting for greenhouse gases to cut carbon emissions. But what exactly does this entail?
CO2 emissions in the event sector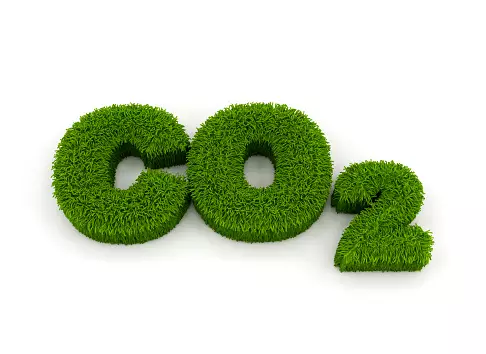 Carbon dioxide (CO2) is, in itself, a normal part of our environment. We breathe it out, and plants need it to survive and thrive. Last but certainly not least, as a natural element of the atmosphere it helps ensure the Earth remains at a pleasant temperature. But the growing use of fossil fuels, such as oil, gas or coal, has released far too much carbon dioxide into the atmosphere. These fuels power energy generation, industrial processes, transport and flights – all of which seem integral to any event sector. Burning fossil fuels releases in total a good 32 billion tons of excess CO2 into the atmosphere every year. To put that in perspective, driving around 4900km in a mid-range gasoline-driven car would generate one ton of carbon dioxide – and to absorb that amount, a beech tree would have to grow for a good 80 years. Clearly, at present, that balance is not working. The result? Rather as in a greenhouse, the excess CO2 prevents more and more warmth escaping from the Earth's atmosphere and our planet heats up too much. There are two ways to avoid this greenhouse effect. First, significantly reducing carbon production – for instance, through sustainable event planning – and where possible, avoiding carbon emissions altogether. The second option is to compensate for unavoidable carbon emissions, an approach known as carbon offsetting. Today, there are a wide range of carbon offset schemes. But how does carbon offset function? And what's more, does it work?
The carbon offset idea

The principle behind carbon offset is based on the idea that it (actually) does not matter where a greenhouse gas such as carbon dioxide is generated. What does matter, though, is how much is emitted and whether those emissions exceed a specific amount (per head or company). With carbon offsetting, an event organiser unable to avoid carbon emissions for a multi-day congress in Berlin can ensure carbon emissions are cut or re-absorbed from the atmosphere at some freely chosen location in the world.
Carbon offset in action
To compensate for a certain level of emissions, individuals, businesses or companies can buy into carbon offset schemes in organisations and projects to cut or compensate for emissions created somewhere else. This process can be illustrated by a simple example. Once you can establish an annual carbon budget for individuals or businesses, then depending on the type of airplane and various other factors, you can deduct a specific amount from that budget, for instance, for a flight from New York to Berlin. The calculated amount of carbon emissions, though, can also be compensated for by a carbon offset scheme which, for example, provides a family in Ruanda or elsewhere in Africa with a more efficient stove emitting less CO2.
How can I calculate carbon emissions?
In the MICE sector especially, estimating the exact carbon emissions of an event is often quite difficult. And whether organising a meeting, incentive, congress or conference, calculating the total emissions exactly requires taking into account a range of diverse factors with different climate impacts – including energy consumption at the event location, return journeys of participants, catering, transport of goods, and not least the on-site mobility of participants. So given the complexity of the carbon footprint of large events, it is advisable to calculate and compensate offset with a reliable partner.
Four options for the right carbon offsetting

Some organisations in Germany already have years of experience in climate protection and carbon offsetting and have received multiple awards for their work. These include, for instance, the Berlin-based non-profit organisation atmosfair, which calculates carbon emissions for flights, cruise ships, long-distance coach journeys and events. To make these calculations, atmosfair works with the CO2 Calculation for Business Travel standards advocated by the German Business Travel Association (VDR) and applies a calculation process developed in-house in cooperation with the VDR. In a first step, atmosfair uses an event questionnaire to calculate the exact amount of emissions. Afterwards, the event organiser joins the decision-making process on which project(s) should receive the offset funding. Finally, each organiser receives a carbon offset certificate and a charitable donation receipt.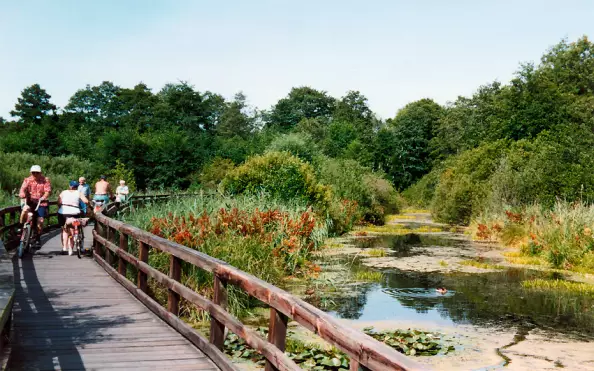 An alternative carbon offset scheme invests in the renaturation of moorland. Today, we know just how important moorland is as a habitat helping to cool the climate and, especially, for its key role in carbon capture – retaining twice the amount of carbon dioxide as all the world's forests. But no moorland can work effectively if it is dried out. Then, the moorland gradually releases the damaging greenhouse gases. The MoorFutures project (originally an initiative by Mecklenburg-Western Pomerania's Ministry of Agriculture and the Environment) is dedicated specifically to rewetting moorland, offering an effective regional scheme for climate protection. This project enables event organisers to buy MoorFutures certificates and offset carbon emissions on a local level. For example, if you are planning a carbon-neutral event in Berlin, you could first use the MoorFutures calculator to estimate carbon emissions, and then buy the requisite certificates to help preserve Brandenburg's Rehwiese moorland and offset carbon emissions directly in the Berlin-Brandenburg region.
And if you prefer, you could also simply plant trees. The idea of giving something back to a location after a major event may not officially be recognised as carbon offset, but this form of sustainable donation – as with the Berlin City Tree Campaign – will also help to improve the climate in a meeting metropolis like Berlin, cut particulate matter and maintain a natural habitat for many living creatures. Moreover, in the long run, such campaigns offer win-win solutions for event organisers and destinations alike. After all, every tree planted at the event location also, as it were, boosts the quality of future conferences and congresses at an even greener location. Incidentally, the cost of planting a new tree in Berlin is around 2000 euros – but for donations of 500 euros, the Berlin Senate subsidises the remaining amount from its own funds.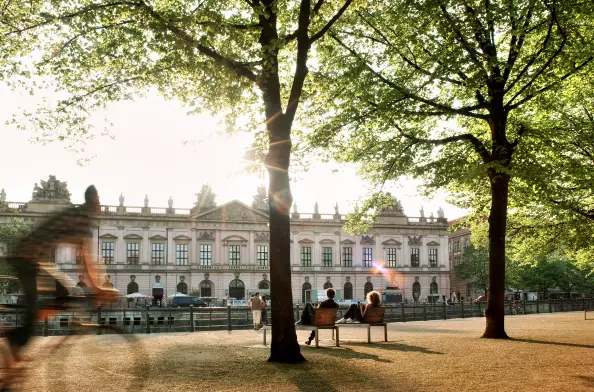 Unfortunately, it is not always so easy to find the right project for a donation or the right kind of carbon offset scheme. But when it comes to choosing the most effective CO2-reducing projects, such worldwide organisations as Global Changer can help. This Berlin-based non-profit organisation also works with partners such as the United Nations and South Pole. Global Changer offers special monthly subscription plans for companies to support five different categories of CO2 reducing projects around the world (e.g., forest conservation, sustainable agriculture, innovative mobility). The projects themselves are verified by the UN and certified by the WWF-initiated Gold Standard or by the VCS.
The final step – when offsetting makes sense
Carbon offsetting is an important step for all players in the event sector – but it should always be the last. After all, carbon offset should never be viewed as a free pass to produce emissions and even ultimately do more harm than good to climate protection. So opting for funding carbon offset schemes from the outset rather than working on climate-friendly event planning can place obstacles in the path of developing further eco-friendly measures and strengthen suspicions of greenwashing. In that sense, before turning to carbon offset, it makes more sense to first avoid and reduce, and only then offset. The primary aim must be to cut greenhouse gas emissions to a minimum through far-sighted planning and responsible actions in cooperation with sustainable partners – for example, by choosing locations using green energy, services for eco-friendly travel for participants as well as sustainable and regional event catering. To help you find just those solutions, we have established a pool of Sustainable Partners and event service providers, and offer more information and tips on climate-friendly events in the infographic on sustainable event planning.