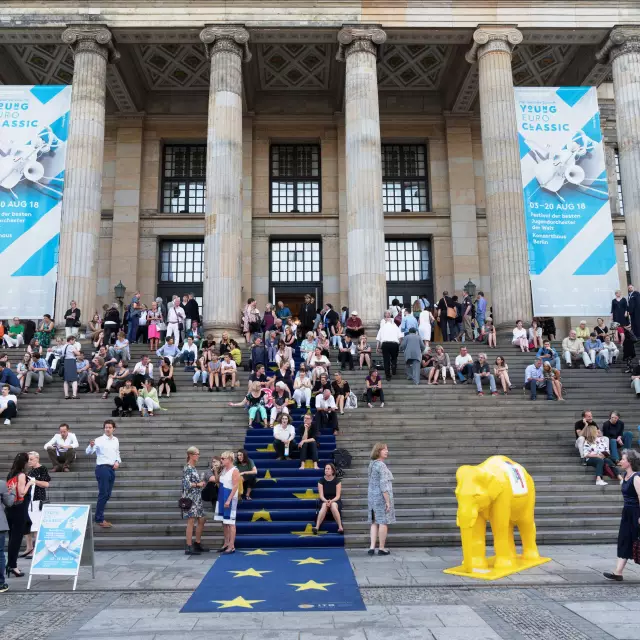 Young Euro Classic 2023
Berlin is the music capital of the world - through Young Euro Classic also for young classical musicians. Look forward to the long-awaited reunion with friends from 23 years of festival history, moving premieres - and many fabulous musical moments.

Look forward to the next edition of Young Euro Classic from August 4 to August 27, 2023 - and as you know it: with first-class youth orchestras, moving music and unforgettable concert evenings!

Transcontinental exchange, European excellence, Next Generation

For over twenty years, Young Euro Classic has stood for cultural exchange, European values and peaceful coexistence.

On the first four festival evenings, Young Euro Classic will kick off with a transcontinental focus featuring great orchestras from Asia, Cuba and the USA.

Young musicians from Ukraine and three "neighboring countries of war" (Estonia, Georgia and Uzbekistan) will provide a special highlight at the Berlin festival of the world's best youth orchestras. Their concept "Courage in Concert" shapes the programmatic bracket of Young Euro Classic 2023: Music Makes Courage.

Young Euro Classic's popular Children's Day on August 13 will be dedicated to young people interested in music, with many hands-on activities and workshops.

The last day of the festival on August 27 will be dedicated to Franco-German friendship on the occasion of the 60th anniversary of the Elysée Treaty. A matinée concert "by children for children" by the Franco-German Junior Academy from Pau in southern France and Berlin-Neukölln and the evening concert by the Orchestre Français des Jeunes will close Young Euro Classic 2023.

Konzerthaus Berlin, Am Gendarmenmarkt 2, 10117 Berlin