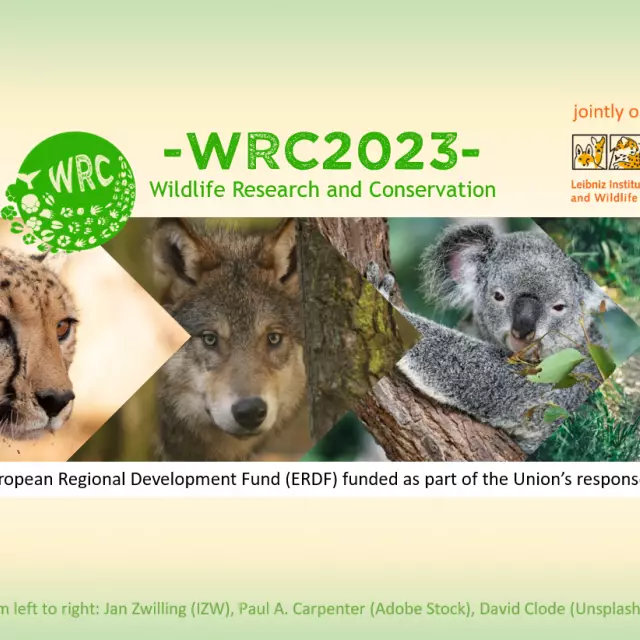 Wildlife Research and Conservation (WRC) 2023
Wildlife Research and Conservation 2023 (WRC2023) is jointly organised by the Leibniz Institute for Zoo and Wildlife Research (
Leibniz-IZW
), the European Association of Zoos and Aquaria (
EAZA
) and
WWF Germany
; it is the successor of the International Conference on Behaviour, Physiology and Genetics of Wildlife.
The conference programme includes one day of workshops on the 8th September apart from three days of plenary sessions from 9th to 11th September 2023.

WRC2023 aims to foster an exchange of ideas between wildlife scientists from different disciplines with an interest in mammalian species, and to present the latest advances and stimulate future research. The plenary sessions will cover a diverse range of fascinating topics such as conservation genomics, population sustainability, ethical aspects in conservation, demographic resilience and human-wildlife-interactions. In addition, renowned scientists will organise sessions and hands-on workshops, providing new perspectives on topics such as the use of artificial intelligence in conservation research, structural equation modeling, and genome analysis methods useful for species conservation studies.

Conference language: The conference language is English.

Audience: Scientists and students from the fields of biology and veterinary medicine with a focus on wildlife research.

This project is co-financed by the European Regional Development Fund (ERDF) funded as part of the Union's response to the COVID-19 pandemic.

Kalender
09

Sep

08:30 o'clock

10

Sep

09:00 o'clock

11

Sep

09:30 o'clock
Freie Universität - Henry-Ford-Bau, Garystraße 35, 14195 Berlin