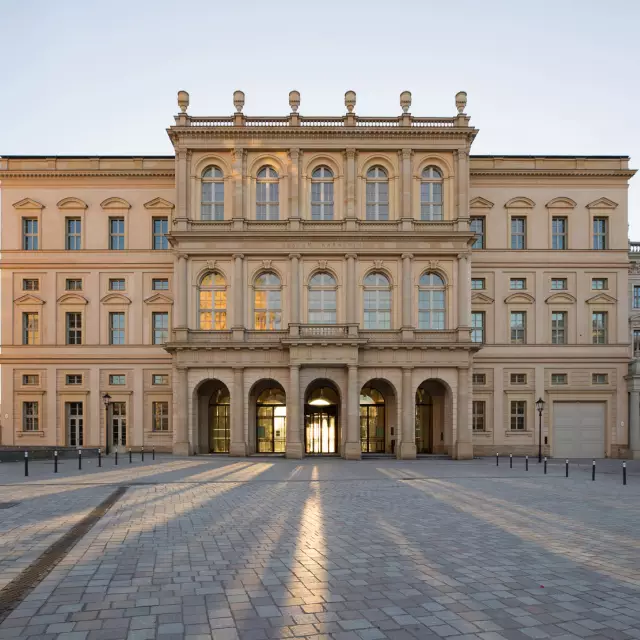 Sonne. Die Quelle des Lichts in der Kunst
The museum Barberini dedicates its new exhibition "Sun. The Source of Light in Art" to the pictorial representation of the sun in art from antiquity to the present. As a sign or personification of divine powers, an action-driving force in mythological tales, an atmospheric element in landscape paintings, or an intensification of color in modernism, the sun plays a central role in European art.

The starting point of the exhibition is Claude Monet's painting "Impression," Sunrise from 1872. The painting, which gave Impressionism its name, shows a red morning sun as the focal point of the composition.

In total, the exhibition presents about 80 works, sculptures, paintings, manuscripts, prints and books, from ancient times to the present.

Among them are paintings by Peter Paul Rubens, William Turner, Caspar David Friedrich and Sonja Delaunay.

Among the more than 30 lenders are the Staatliche Kunstsammlungen Dresden, the Museo nacional Thyssen-Bornemisza in Madrid, the Bayerische Staatsgemäldesammlungen, Munich, the Musee du Louvre in Paris, the National Gallery of Art, Washington, D.C., and the Albertina in Vienna.

An exhibition of the Museum Barberini, Potsdam, and the Musée Marmottan Monet, Paris.

Kalender
26

Feb

10:00 o'clock

27

Feb

10:00 o'clock

01

Mar

10:00 o'clock

04

Mar

10:00 o'clock

05

Mar

10:00 o'clock

06

Mar

10:00 o'clock

08

Mar

10:00 o'clock

12

Mar

10:00 o'clock

15

Mar

10:00 o'clock

18

Mar

10:00 o'clock

20

Mar

10:00 o'clock

22

Mar

10:00 o'clock

23

Mar

10:00 o'clock

24

Mar

10:00 o'clock

26

Mar

10:00 o'clock

31

Mar

10:00 o'clock

02

Apr

10:00 o'clock

03

Apr

10:00 o'clock

05

Apr

10:00 o'clock

06

Apr

10:00 o'clock

07

Apr

10:00 o'clock

08

Apr

10:00 o'clock

16

Apr

10:00 o'clock

21

Apr

10:00 o'clock

22

Apr

10:00 o'clock

23

Apr

10:00 o'clock

27

Apr

10:00 o'clock

29

Apr

10:00 o'clock

30

Apr

10:00 o'clock

01

May

10:00 o'clock

06

May

10:00 o'clock

07

May

10:00 o'clock

08

May

10:00 o'clock

10

May

10:00 o'clock

12

May

10:00 o'clock

13

May

10:00 o'clock

17

May

10:00 o'clock

18

May

10:00 o'clock

19

May

10:00 o'clock

20

May

10:00 o'clock

21

May

10:00 o'clock

27

May

10:00 o'clock

28

May

10:00 o'clock

29

May

10:00 o'clock

01

Jun

10:00 o'clock

02

Jun

10:00 o'clock

04

Jun

10:00 o'clock

05

Jun

10:00 o'clock

07

Jun

10:00 o'clock

09

Jun

10:00 o'clock