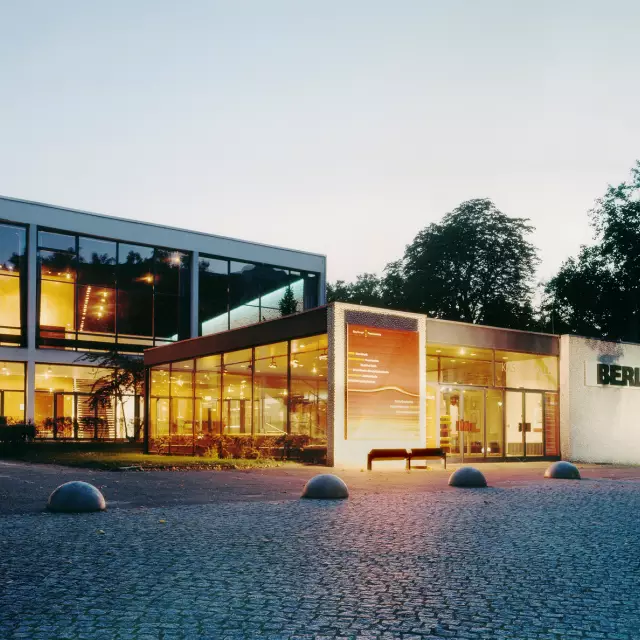 Performing Exiles
From June 15 to 25, 2023, the interdisciplinary festival "Performing Exiles" presents a scene of artists: inside who have left their countries of origin for various reasons and who shape cultural life in Berlin. Matthias Lilienthal curates the new festival with advice from Rabih Mroué.

The festival "Performing Exiles" reflects the description of exile beyond the narrow concept of persecution; the biographies of the artists are globalized from the beginning. "Performing Exiles" questions the concept of exile against the backdrop of constant global change and multiple migratory movements - with theater, performance, discourse, and concerts.

At the same time, "Performing Exiles" sees itself as a structural initiative and connects with international positions.

The focus is on three co-productions by artists in exile living in Berlin, an international production as well as films and lectures by Arab, African and Russian artists.

On view are two world premieres produced by the Berliner Festspiele especially for the festival: Lesotho-born and internationally acclaimed filmmaker Lemohang Jeremiah Mosese stages his first stage work, in which he searches for images of both the individual and collective identity of a pan-African community and how an African consciousness can manifest itself in the global diaspora.

In a performative walk by St. Petersburg-born director Ada Mukhína, the biographies and family stories of the three protagonists passing through Berlin interweave with the sites of historical and current Russian exile.

Other performances, such as "Hartaqāt" by Lina Majadalanie and Rabih Mroué, "Blind Runner" by Amir Reza Koohestani or "News from the past" by Stas Zhyrkov refer to current situations in Iran, Lebanon and Ukraine.

The festival also sees itself as a structural initiative and connects with international positions. Among them the dance performance "idiota" by Marlene Monteiro Freitas. The internationally sought-after choreographer explores - inside a glass case - the myth of Pandora's Box, drawing inspiration from the work of Cape Verdean painter Alex Silva (1974-2019).

Based on the Brazilian state of Bahia, the multimedia work "Depois do silêncio" explores the history of slavery and its reverberations in the here and now. Brazilian director Christiane Jatahy, who received the Golden Lion at the 2022 Venice Biennale Teatro for her life's work, integrates historical and her own research, film and literature.

In addition, three days of discourse with international guests will take place. The program of "All that is Musical in Us is Memory" curated by Natasha Ginwala and Magnus Elias Rosengarten, deals with exile, kinship and (non)belonging.

In "Fear as We Know It" - conceived by Fabian Saul and Senthuran Varatharajah - eight artists* explore antecedents and representations of fear. Eyal Weizman from Forensic Architecture/Forensis and Maksym Rokmaniko from the Center for Spatial Technologies reconstruct the destruction of the Drama Theater in Mariupol, where thousands of civilians sought refuge from the Russian occupiers, in a multimedia presentation.

Robbie Aitken, professor of imperial history at Sheffield's Hallam University, will focus his lecture on expressions of black identity and resistance, using the example of a revue that premiered in 1930 in Kliem's Festsäle in Kreuzberg.

The festival program, which also includes performances at the Akademie der Künste, HAU - Hebbel am Ufer and Heimathafen Neukölln, will also feature concerts by "Vesna," a trio project by Ukrainian musician Mariana Sadovska, and by author and singer Serhij Zhadan, who will perform with his ska band "Zhadan i Sobaky" on the opening day.

In the Bornemann Bar, Senegalese curator and multidisciplinary artist Alibeta will also resurrect, after more than 70 years, the "Penguin Bar," which during its brief existence from 1949 was the site of jazz, resistance and activism of the Black community in Berlin.

In collaboration with Ashkal Alwan, Beirut, the three-week "School for Dissident Friendship" will also take place, networking emerging artists* from Berlin, Lebanon, Jordan and Egypt and offering them expertise, time and space to further develop their own work.

verschiedene Veranstaltungsorte Berlin