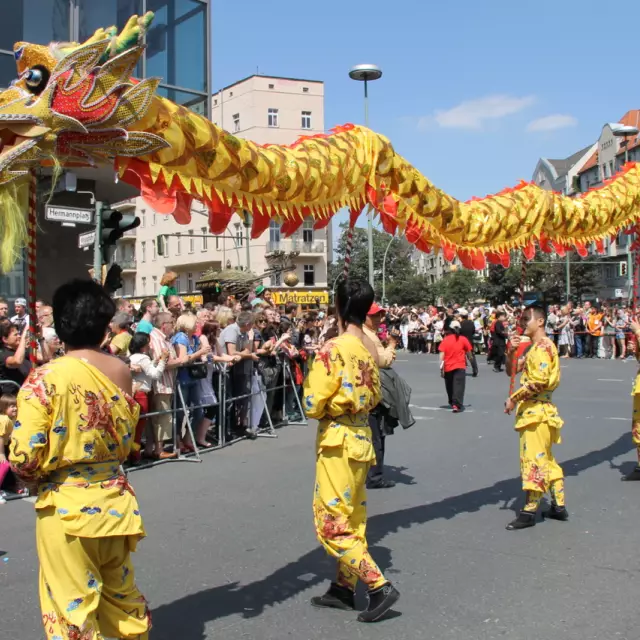 Karneval der Kulturen
The Carnival of Cultures is one of the largest city festivals in Germany and reflects the diversity of Berlin. Since 1996, the Carnival of Cultures has taken place annually at Whitsun as a four-day free festival in the heart of Berlin, probably also in 2024..

The Carnival of Cultures celebrates the internationality and diversity of the German capital.

More than 2,500 actors parade through the streets in imaginative costumes and choreographies, artistically demonstrating Berlin's cultural diversity and the concerns of its diverse citizens.

The accompanying four-day street festival offers culinary delights and handicrafts from all over the world as well as music by Berlin-based musicians and DJs on the stages and in the music corners.

Thousands of visitors from near and far are attracted to the capital every year.

The Carnival of Cultures builds bridges and challenges new perspectives - making it so much more than just a raucous celebration.

The Carnival of Cultures is Berlin's unique statement for diversity, tolerance, commitment, art and culture.
This was the Carnival of Cultures 2023

More than 1 million people celebrated diversity and togetherness again at the Carnival of Cultures after a three-year break due to the corona. For the 25th time, the Carnival of Cultures took place in the streets of Kreuzberg. With the parade and one of the largest German street festivals, Berlin celebrates a post-migrant tradition that is unique in its diversity worldwide.

In the street parade, about 2,500 actors in 48 groups showed what social issue they were concerned with this year. A

t the street festival, about 900 artists offered a colourful and diverse programme on three main stages, the lawn in action and seven music corners over four days.

The majority of the performers and artists are of Berlin origin and represent the cultural wealth of the city. Together with hundreds of thousands of visitors, they proved that a peaceful, open and tolerant society is what many people want.

Hermannplatz, Hermannplatz, 10967 Berlin