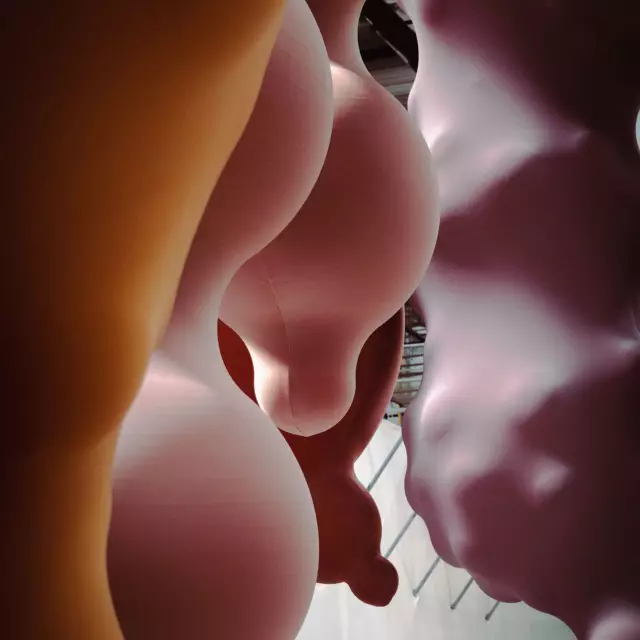 Eva Fàbregas
Eva Fàbregas occupies the historic hall of the Hamburger Bahnhof with a monumental, site-specific installation. The artist's largest solo exhibition to date expands the boundaries of the sculptural and invites visitors* to a sensual spatial experience.

Amorphous sculptures and a sound installation transform the museum's station architecture, characterized by industrial iron girders, into an organically grown space.
Eva Fàbregas (born 1988 in Barcelona, lives and works in London and Barcelona) takes up the architecturally designed transit situation of the station concourse with her work at Hamburger Bahnhof.

The soft, corporeal objects characteristic of the artist's work enter the hall from the side.

The deep tones of the sound installation cannot be clearly assigned spatially, but can be felt physically through their vibrations.

The combination of sculpture and sound irritates the perception of the actually clear orientation of the former station hall.

The boundaries between technically generated, human and non-human worlds become blurred. Visitors are immersed in this organic-technical environment.

The exhibition is accompanied by the second issue of the Hamburger Bahnhof's new publication series published by Silvana Editoriale Milano.

Curated by Anna-Catharina Gebbers (research assistant Hamburger Bahnhof - Nationalgalerie der Gegenwart).

Kalender
08

Jul

11:00 o'clock

09

Jul

11:00 o'clock

05

Aug

11:00 o'clock

06

Aug

11:00 o'clock

19

Aug

11:00 o'clock

26

Aug

11:00 o'clock

09

Sep

11:00 o'clock

10

Sep

11:00 o'clock

17

Sep

11:00 o'clock

23

Sep

11:00 o'clock

24

Sep

11:00 o'clock

30

Sep

11:00 o'clock

01

Oct

11:00 o'clock

03

Oct

10:00 o'clock

05

Oct

10:00 o'clock

07

Oct

11:00 o'clock

17

Oct

10:00 o'clock

18

Oct

10:00 o'clock

20

Oct

10:00 o'clock

21

Oct

11:00 o'clock

26

Oct

10:00 o'clock

28

Oct

11:00 o'clock

31

Oct

10:00 o'clock

02

Nov

10:00 o'clock

08

Nov

10:00 o'clock

10

Nov

10:00 o'clock

11

Nov

11:00 o'clock

12

Nov

11:00 o'clock

17

Nov

10:00 o'clock

18

Nov

11:00 o'clock

19

Nov

11:00 o'clock

22

Nov

10:00 o'clock

23

Nov

10:00 o'clock

24

Nov

10:00 o'clock

25

Nov

11:00 o'clock

26

Nov

11:00 o'clock

30

Nov

10:00 o'clock

02

Dec

11:00 o'clock

05

Dec

10:00 o'clock

06

Dec

10:00 o'clock

12

Dec

10:00 o'clock

13

Dec

10:00 o'clock

16

Dec

11:00 o'clock

19

Dec

10:00 o'clock

23

Dec

11:00 o'clock

26

Dec

10:00 o'clock

27

Dec

10:00 o'clock

29

Dec

10:00 o'clock

30

Dec

11:00 o'clock

03

Jan

10:00 o'clock
Hamburger Bahnhof - Museum für Gegenwart, Invalidenstraße 50/51, 10557 Berlin