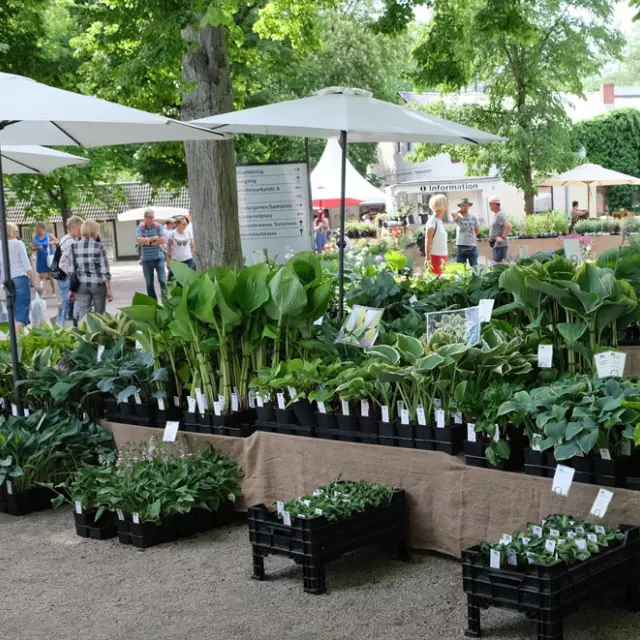 Gartenträume auf der Rennbahn Hoppegarten
The garden fair "Garden Dreams for Berlin and Brandenburg" invites you to the racecourse Hoppegarten: In this park landscape with a unique flair, under tall trees and in the midst of listed racecourse buildings, around 90 exhibitors* present the latest trends, ideas and discoveries for their own green paradise.

Garden lovers and nature lovers from Berlin and Brandenburg will experience inspirations and current developments, plants and bulbs, unusual design ideas and decorations, outdoor technology and furniture, advice from garden professionals from all areas, useful tools and much more. This is how your own garden dream comes true - in the garden, on the terrace and on the balcony.

Sustainable gardening, rarities from the plant world and professional tips with aha effect
Climate-friendly gardening on large and small areas is the focus of Garden Dreams: How can the soil store more water? Which plants can withstand both severe drought and heavy storms? Where do bees, insects and beneficial insects really feel at home? Experts from the green sector give tips with an "aha" effect for ecological gardening. Plant breeders offer their rarities from the plant world.

Rare roses with a beguiling fragrance can be found, as well as hundreds of varieties of hosta, also known as heartleaf lilies. Trellis shrubs, flowering shrubs, hedge plants, fruit trees, perennials and climate-resistant trees of the future: Garden Dreams makes the lush plant splendor of regional producers visible.

Departure to a garden design for the soul - also with modern technology
Equip your own garden, terrace and balcony with new ideas: The garden dreams asks to the variety of the possibilities. Domestic garden and landscape gardeners are ready for a consultation and the free, individual garden planning. With raised beds, terrace decking, mowing robots, sprinkler systems and more, current know-how and modern technology are used. Outdoor kitchens with all the extras show how well living and celebrating under the stars can be combined with fresh culinary delights. Soul cradles crafted by an artist's hand provide the perfect time-out.

Garden dreams as a unique racecourse experience
With around 90 exhibitors, professional tips and inspiration, the latest trends and an intensive supporting program, the garden fair transforms the historic grounds in Hoppegarten into the green meeting place for Berlin and Brandenburg for three days. The Gartenträume thus offers all visitors their very own racetrack experience.

Kalender
02

Jun

10:00 o'clock

03

Jun

10:00 o'clock

04

Jun

10:00 o'clock
Rennbahn Hoppegarten, Rennbahnallee 1, 15366 Hoppegarten