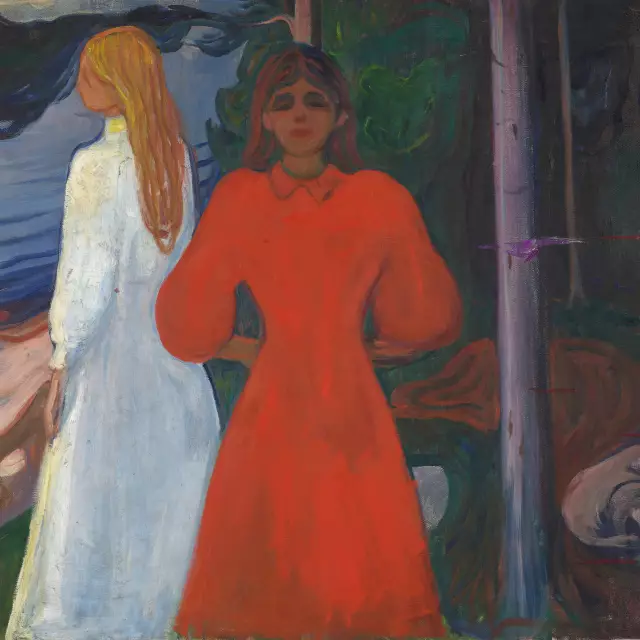 Edvard Munch. Magic of the North
The exhibition "Magic of the North", which will be on show at the Berlinische Galerie from 15 September 2023 to 22 January 2024, tells the story of Edvard Munch and Berlin illustrated by about 80 works: Paintings, prints and photographs.

With the radical modernity of his paintings, Edvard Munch (1863-1944) challenged his contemporaries, especially in Berlin, where the Norwegian symbolist exerted big influencein the art scene at the turn of the century.

The German capital was in the grip of a fervour for all things Nordic. Even the conservative Association of Berlin Artists invited the young artist, as yet unknown, to put on an exhibition in 1892.

Many members, but also the audience were shocked by the bright colours and perceived the paintings as sketchy.

The artist enjoyed the unexpected public attention. He immediately moved to the Spree, where he lived and worked for extended periods from 1892 to 1907, before settling permanently in Norway from 1909.

The "Munch Affair," as the press sardonically labelled the scandal, is seen as the beginning of modernism in Berlin.

With about 65 exhibitions between 1892 and 1933, Berlin proved to be one of the most important European hotspots in Munch's career.

Here he found artists, gallery owners, progressive intellectuals and collectors who promoted his work.

On the banks of the Spree, Munch's works were not just the parting shot for modern art. They also transformed conventional thinking about the "magic of the North" (Stefan Zweig).

Romantic and naturalist notions of fjord landscapes gave way to the psychological density of Munch's visual cosmos.

During the Nazi dictatorship from 1933, the painter was initially celebrated by cultural politicians as a "great Nordic artist", only to become an early victim of the defamatory campaign against "degenerate" art.

The exhibition embraces about 80 works by Edvard Munch which are joined by the works of other artists, such as Walter Leistikow and Akseli Gallen-Kallela, who set their stamp in the late 19th century on how Berlin imagined the North and on the Modernist art world in the city.

The MUNCH in Oslo and many other international partners are generously supporting the exhibition in Berlin with loans.

Munch in Germany 2023
One artist, two exhibitions - the art highlight in Germany
This exhibition of landscape paintings by Edvard Munch focuses on his interaction with nature.

Art Highlight 2023/2024: Two Edvard Munch Exhibitions in the Berlin-Brandenburg Region
Travel tip from visitBerlin

BAHNHIT: 4-day cultural trip Berlin including arrival and departure with Deutsche Bahn, overnight stay in a hotel with breakfast and day ticket exhibition "Magic of the North" with works by the Norwegian painter Edvard Munch.

Kalender
07

Oct

10:00 o'clock

08

Oct

10:00 o'clock

09

Oct

10:00 o'clock

11

Oct

10:00 o'clock

16

Oct

10:00 o'clock

18

Oct

10:00 o'clock

19

Oct

10:00 o'clock

20

Oct

10:00 o'clock

21

Oct

10:00 o'clock

22

Oct

10:00 o'clock

25

Oct

10:00 o'clock

28

Oct

10:00 o'clock

01

Nov

10:00 o'clock

04

Nov

10:00 o'clock

08

Nov

10:00 o'clock

09

Nov

10:00 o'clock

10

Nov

10:00 o'clock

11

Nov

10:00 o'clock

12

Nov

10:00 o'clock

13

Nov

10:00 o'clock

15

Nov

10:00 o'clock

17

Nov

10:00 o'clock

19

Nov

10:00 o'clock

22

Nov

10:00 o'clock

25

Nov

10:00 o'clock

27

Nov

10:00 o'clock

29

Nov

10:00 o'clock

30

Nov

10:00 o'clock

02

Dec

10:00 o'clock

03

Dec

10:00 o'clock

07

Dec

10:00 o'clock

09

Dec

10:00 o'clock

16

Dec

10:00 o'clock

17

Dec

10:00 o'clock

20

Dec

10:00 o'clock

22

Dec

10:00 o'clock

27

Dec

10:00 o'clock

28

Dec

10:00 o'clock

29

Dec

10:00 o'clock

03

Jan

10:00 o'clock

04

Jan

10:00 o'clock

05

Jan

10:00 o'clock

06

Jan

10:00 o'clock

07

Jan

10:00 o'clock

08

Jan

10:00 o'clock

12

Jan

10:00 o'clock

13

Jan

10:00 o'clock

14

Jan

10:00 o'clock

18

Jan

10:00 o'clock

21

Jan

10:00 o'clock
Berlinische Galerie - Ausstellung, Alte Jakobstraße 124, 10969 Berlin